Paul (Redcloud Brother)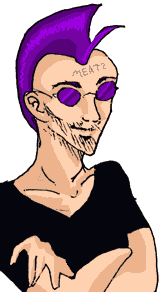 Many of you have asked, "Paul, how do you get through your grueling four-hour-a-day work schedule and still find time to write one article a week?" Obviously, he can't do both, AND take 45-minute showers, AND set up the timer to tape Hawaii 5-0 every day. No man could. So how is this thing done? The answer is simple: time travel. To do his actual work, Paul enlists the aid of Future Paul, who is a grizzled, one-armed veteran of the Great Cyborg War. He is glad to do Present Paul's work for him in exchange for a few decaliters of gasoline (which, respectively, are the unit of volume and the currency of the future) so he can buy a bottle or two of Mad Dog 2525.
Incidentally, Future Paul also takes Present Paul's showers for him, and Past Paul watches the tapes of Hawaii 5-0, which explains Present Paul's smelliness and tendency to book people.
Besides writing articles for LnE, Paul also does site design, Flash, and programming for the site. He also spends hours in conference calls with CEOs of big companies, trying to negotiate big LnE advertising deals in exchange for the return, unharmed, of the CEOs' son. There is a warrant out for his arrest.
You can email Paul at paul@lanceandeskimo.com or, for some reason, latex@lanceandeskimo.com.



All of Paul's Articles
11-26-03 Lance and Eskimo Do the Dishes: An exciting insight into the independent thought processes of Lance Redcloud.
10-28-03 Paul's Answers to Jenny Marx's Questions: Paul's continuation of an email forward started by Karl Marx's daughter.
10-8-03 Canada, Schmanada: You're an innocent lass about to brave the wilds of Canada to rescue Paul and Laura Redcloud. Will you survive, or will you be eaten by grizzly bears or imprisoned by Captain Nemo, or will something even more Canadian happen? A "choose your own adventure" adventure!
9-23-03 Star Wars Episode III Betting Book: There's no prize for this contest, because you can't put a price tag on human suffering.
9-9-03 Pismo Tenderloins 2: Our favorite superhero returns to clean up the city. You should clean your city once every two months whether it needs it or not.
8-19-03 Self-Indulgent Writer's Workshop: This year's SIWW is guaranteed to make you feel smugger about all your rejection letters.
8-5-03 The Laudry Demons: A photographic tour of Paul's soul, by way of his dirty linen. (Flash, 70k)
7-22-03 Geeko!: If you haven't seen "The Screen Savers" on TechTV and you find this entertaining, well, then more power to you.
7-21-03 Pismo Tenderloins: The first in what we can only hope will be a series of one stories about a corporate crime-fighting superhero.
7-9-03 Websites that are Anagrams of Lance and Eskimo: There's more than you'd think.
6-3-03 Accredited US Universities with Silly Names: Thinking of going to college, but not sure which .edu will look funniest in an email address? Paul's guide will help you decide.
5-27-03 Paul's Online Personal: He's dating someone, but, you know, it never hurts to have insurance.
5-20-03 People on the Bus I Hate: Nothing like a ride on public transportation to fill your soul with rancor.
5-6-03 The American Presidents 2: The contemplative sides of comic book heroes The American Presidents.
4-30-03 Quest for the Crown: Official Strategy Guide: Questwood Studios' QUEST FOR THE CROWN Official Strategy Guide features complete coverage of the latest game from the company that brought you THE SEARCH FOR MIGHTY-BREATH THE MAGIC PEGASUS. Players will find comprehensive walkthroughs for, as well as winning strategies for how to beat the game. In addition, area maps, detailed item lists and an all-inclusive character library are also provided. The best way to win is here! Warning: Spoilers Inside!
4-29-03 Quest for the Crown: Paul and Nate have developed a hot new online RPG, and you'll get to be the first to play!
4-23-03 How they Localize Commercials: Paul continues his study of advertising by presenting four different regional versions of the same commercial.
4-8-03 Dress Up Paul: An actual, working dress-up doll of Paul! Now you can live out your fantasies of making him look slightly stupider than usual. Complete with Paul's actual wardrobe, including the Megadeth shirt with Vic Rattlehead and all the purple goo.
4-1-03 Great Powerpoint Demonstrations by Villains, Part 1: Skeletor's Soliloquy: Back in the day, villains had to freestyle their gloats, or use cumbersome cue cards. But if Skeletor had access to Microsoft Office, we all know He-Man would be sitting through a lengthy PowerPoint presentation like this one. (150KB, in powerpoint format)
3-20-03 Bush to Saddam: We will--hey, get that camera out of my face!: Paul zooms in on what annoys him most about Iraq media coverage.
3-11-03 A New L&E Promo: We're launching a new, slick ad campaign. It's got gears in!
2-18-03 Don't Joke About Earthquakes: An important public service announcement. (mp3, 400k)
2-11-03 The Fabulous City: Paul experiments with horrible web design. Really horrible web design. Really, really horrible web design.
2-4-03 The American Presidents: The first in a series of comics chronicling the adventures of the American Presidents, John Peacock President and U. S. War Bug.
1-28-03 More Like the Penultimate Resort!: Paul and Laura have a new idea for a TV show. Paul and Laura are idiots. Draw your own conclusions.
1-21-03 The Peace Coat: A fashion revue of sorts.
1-7-03 Bad Ads 3: There's so much commercialism in commercials these days! It's almost enough to disillusion one with the ad industry altogether.
12-31-02 Paul's Driving Manual: Everything you'll need to get your driver's license in This Glorious City.
12-17-02 The Azores Mystery: A taut thriller with a twist ending loosely based on true events.
12-10-02 Paul's L&E Dream Mansion: Some day Paul will have the power to hand this blueprint to an architect and say "Build this", and the architect will have the power to kick Paul in the shins and run away.
12-3-02 Paul's Christmas List: Now Paul wants stuff for Christmas too? Geez, how much stuff are you going to have to buy?
11-26-02 GEORGE W. BUSH'S SECRET REVEALED!: It is proved definitively that GWB is not some poop. But the truth is even more horrifying!
11-21-02 Bruce Hellmont, Girl Detective: Noir. Very noir.
11-19-02 Mu and Spick: Space Adventurers: It's a space opera! There are adventures!
11-5-02 Which Assassinated US President are You?: Strictly speaking, you are none of them, but you can always pretend.
10-30-02 Once Upon a Time in the House of Gerard Depardieu: Bearly bearable.
10-22-02 The Ten Dollar Haircut: Either an exercise in horror from one of the genre's modern masters, or Paul complaining about stuff.
10-15-02 A Dialogue between A and B: Starring A! And B! And introducing C as himself!
9-24-02 Paul's Dream Journal: A clever piece of software helps Paul explore the world of his subconscious.
9-10-02 The Ballad of Slylock Fox: (Flash, 300k) For those of you with inadequate syndicated Sunday comics, Slylock Fox is a sleuth who outwits Paul every week with elegant solutions to clever conundrums. This film is Paul's revenge.
8-20-02 The Erotic Adventures of Scrooge McDuck: A disappointingly vanilla tale of triumph over adversity.
7-30-02 Things Paul Ate as a Kid: It's all food, no bugs and stuff.
7-16-02 Geek T-Shirts that Only Make 80% Sense: We reveal our new line of computer T-shirts, which, in turn, reveal that we don't know anything about computers.
7-8-02 A Normal Life Process: The coming of age story of Chefelf and Paul. It involves Patrick Swayze too.
7-2-02 The Patricia Richardson Ate My Balls Webring: In our continuing effort to break all the rules on our played out list, we've got some topical, topical ball-eating humor for you to enjoy. Try to visit every member of the webring!
6-25-02 Who Does Paul Love?: An anthropological study of the enigmatic brother Redcloud that answers the question, does Paul love you?
6-11-02 An Irish Tale: (Flash 6, 240k) What do you get when you cross a family of Irish immigrants with an object of ultimate evil? Dare we say fun-larity?
5-21-02 George Lucas's Neck Size is Inversely Proportional to the Quality of his Movies: A photo essay.
5-14-02 What's Your Temperament? Personality Test/Medical Diagnostic Tool: This is the actual test administered by Galen right before he gave people mercury to eat.
5-7-02 Comprehension Test of Something Some Crazies Gave Me on the Street: Time travel! The destruction of Jupiter! Those disturbing cervical rings that are popping up everywhere! It's all explained in this reading comprehension passage!
4-30-02 Fresh New World: How big a poundcake would be needed to cure all the world's ills?
4-23-02 How Long Would it Take to Kill Bill Gates with an Axe?: Finally, proof that Bill Gates is the baddest mofo ever!
4-16-02 15 Reasons why Chocolate is Better than Sex: Do your part! Repeatedly forward this article to all your friends!
4-9-02 The 2001 Beer Commercial Report: Including an insight into the creation of Spuds the dog.
4-2-02 Bilbo the Talking Gondar: (Flash, 170k) A disastrous foray into the world of children's television.
3-26-02 My Fool is a Crock: A story about the world's worst jester.
3-20-02 The Star Wars Episode II Betting Book: Just like horse racing, but there's only one horse, and it still loses.
3-5-02 The F'ed Up Winners of the Caption the Senators Contest: Captions are revealed and prizes are doled out.
2-26-02 A New Contest!: What you lose in civil liberties you can make up for in prizes!
2-19-02 Bad Ads 2: Another look at the advertisements that keep America in a recession.
2-12-02 Mr. Bagel Have: A new comic series inspired by this one time I ate a bagel.
2-5-02 Paul is At Best Lukewarm About the USA PATRIOT Act: Non-US residents, feel free to stop reading this article now and return to the football hooliganism for which you are so rightly renowned.
1-29-02 Ringworld Remembered: Paul and Nate review classic sci-fi novel Ringworld.
1-22-02 Origins: A prequel of sorts.
1-15-02 A Question of Semantics: In a heart-warming piece, Paul discovers the joy of multiculturalism.
1-8-02 Banned from Broadband: In which the phrase "traffic jam on the information superhighway" is NOT used.
1-1-02 How to Be a Fancypants: A reference for the rest of us.
12-28-01 Planned Eat-Selescence: Paul criticizes Play-Doh for what he percieves as "a tendency to be too delicious."
12-18-01 A Charlie Brown Christmas DVD: (Flash, 900k) Of all the flash films we've ever made, this one is the charlie browniest.
12-11-01 The Azores Mystery: Find the foreshadowing and win a free T-shirt!
12-4-01 Paul's Dream: (Flash, 67k) Starring the Hardy Boys.
11-27-01 Sex Degrees of Separation: A little fun toy that will tell you how closely-related celebrities are, sex-wise.
11-20-01 The Living Soap: A bonus story, regrettably about soap.
11-20-01 An Exciting WWII Story: Some speculative fiction, not about soap.
11-14-01 A Tale of Virtue: An exciting oral history, including mining and war stories.
11-13-01 Captain Geocities: An all new comic with a brand new superhero/soulless corporate icon!
11-6-01 The L&E Boyfriend Generator: A brand new quiz that will actually generate a living boy.
10-24-01 An Open Letter of Apology to Bruce Campbell: Mustering all the dignity and class we can, we apologize for some of our book-signing faux pas.
10-16-01 The Fun Book of Fabulous Fast Facts: I got your knowledge right here.
10-2-01 Elves vs. the Supernatural: If you like BUFFY THE VAMPIRE SLAYER...
9-25-01 Pokemon Poop: When cartoon cuties and capitalism collide, what ensues can only be called comedy!
9-11-01 Welcome to Linux: Paul grapples with an unfamiliar OS and ruminates on BogoMIPS.
9-4-01 L&E Job Applications: Publishing these must be a violation of some privacy law.
8-28-01 Caption the Senator Contest: It's funny because they can say funny things.
8-21-01 The Adventures of Rex Blunder, pt. 3: A crudely drawn comic about a dapper playboy.
8-14-01 American Beans: A quick visit to a website where you can learn -- and laugh! -- along with America's least favorite legume
8-7-01 The Creepy Cable Cartoon Guy: Don't try to seduce us with your alluring mascots, Cox Communications! We're on to your little games.
8-3-01 Elf vs. Beast (Again): Scary. Realistic.
7-31-01 Bad Ads 1: Hey, sometimes it's hard to keep up consistent quality over 30 whole seconds.
7-24-01 Stop the Denial of Service Attacks: A Plea for Sanity: In which we invoke the twin gods of LnE.com: Kurt Russell and God.
7-20-01 Elf vs. Beast: A bonus story, filled with despair. A tail of redemption and a lion.
7-20-01 Elf vs. God: Another bonus story, this one heavenly.
7-17-01 My Stupid Eye Adventure, Part 2: Paul goes back to the eye doctor, futher humiliates himself, and weeps openly.
7-10-01 Hawaii Five-Oh-Yeah!: The top 7 reasons why it's the best show ever.
7-6-01 Elf vs. Society: Angst-ridden.
7-3-01 Ah, Japan: So Laura's in Japan for a month, that lucky stiff. No need to be jealous... with this choose-your-own-adventure, you can have the exact same experience she's having!
6-27-01 The Lance and Eskimo Conversation Generator: Select your favorite L&E characters and generate conversations between them. It's fun!
6-26-01 The Adventures of Rex Blunder, pt. 2: A crudely drawn comic about a dapper playboy.
6-22-01 Elves vs. Nature: Grim. Tragic.
6-19-01 My Stupid Eye Adventure: Paul, still under the impression that he is a clever man, wonder why he screws up simple things like a trip to the eye doctor.
6-12-01 Latex Implement: A slick new business joins the LnE community.
6-5-01 Armageddon: More like GIRLmageddon!: A timely review of the 1998 extinction-level-event classic.
5-29-01 Domains for Sale: Like throwing good money after bad? Then why not invest some of these hot domain names?
5-22-01 Brothers Redcloud Cuteness Vote: Paul: Paul weighs in on the cuteness issue.
5-15-01 I Don't Like those Game Shows That Much: Paul takes a unique stand.
5-8-01 The Adventures of Rex Blunder, pt. 1: A crudely drawn comic about a dapper playboy.
5-1-01 LnE Special HealthWatchZone Special Report: Dandruff: Breaking medical news before it breaks us.
4-27-01 The Rubies of Omeron: High fantasy with lots of irritating color words.
4-24-01 The Carl Sagan Song : (Flash, 112k) Our latest animation is dedicated to the late, great Carl Sagan.
4-17-01 OTIS: An Eiffel Tower Expose: Paul uncovers the grim secrets locked in Eiffel Tower propaganda. WARNING: You can't unsee the contents of this article.
4-10-01 My Trip to France: Paul's dazzling tour of all the French landmarks he didn't see.
4-3-01 Paul vs. the Airlines: Paul flies the friendly skies and breaks them.
3-27-01 Guy in the Elevator: Paul makes the startling discovery that not all commercials make sense.
3-20-01 Paul Works: Maybe it's just all the toner I've ingested talking, but that looks like Paul in a dress shirt. Dazzling!
3-16-01 Are You Nate's Girlfriend Material?: Find out if you're right for our own resident chef elf guy.
3-13-01 Other Conversation Hearts: The Post-Valentine Conversation Heartstravaganza continues with this look at rare conversation heart varieties.
3-9-01 Paul's Ignorant Octopus Spin Doctor: Our most ambitious, and, arguably, our most enigmatic film.
2-22-01 Extinct Beverage: Orbitz: What if Pikachu pooped in some Pine Sol? Find out in this review.
2-20-01 Paul's Virtual Bar: It's lame to spend all night on the internet, but it's cool to spend all night in a bar, right? Now at Paul's Virtual Bar you can do both!
2-19-01 Skyscraper: Anna-Nicole Smith's epic adventure through a really small skyscraper.
2-14-01 The Worst Film Ever: Well, second worst. According to our bastards to the north.
2-1-01 The Official "The Day Chris Said "Wicked Fine"" Gush Page: If there's 3 things we love, they're official pages, poorly executed flash, and nested quotes. This page offers all three.
1-18-01 Glen Yarbrough: (shrugs) Some folk guy.
1-4-01 The Binary L&E Promo: Get ready for some pulse-pounding technological fun, and poop.
1-2-01 This Glorious City Weather Report: What's the weather like in Lance and Eskimo's home town? Is it sunny? or is it raining men?