FRIENDS
At Lance and Eskimo, we're nice enough to host the websites of a handful of people we admire, thus saving them the ignominy of being on Angelfire or Tripod or something. The application process is long and rigorous and mostly involves "asking us".
8-16-02 Fully Ramblomatic.com: Yahtzee joins the bandwagon and launches his very own domain! (Yahtzee)
8-6-02 The Anonymous Blonde: A spiffy personal page by Who does Paul Love? auteur and former phone sex operator Anonymous Blonde. (Anonymous Blonde)
7-9-02 World History Archive: Lance and Eskimo's new sister site, which is a great place for us to disseminate lies. (Us)
5-28-02 Tegrisome: A new business partner joins the L&E flock. (Tegrisome)
6-12-01 Latex Implement: A slick new business joins the LnE community. (Paul)
3-15-01 The Content-Free Vegeta Girl Zone: Go here for the most extensive Dragon Ball Z site ever put on the Internet entirely while watching "Knight Riders." (Vegeta Girl)
2-28-01 Rachel's World: She's the cutest little goth girl you ever did see. (Rachel)
2-15-01 The Lewgosset Musk World Domination Page: Lewgosset Musk is "dedicated to the proposition that anyone with a rudimentary knowledge of HTML can waste everyone's time." So are we. (Lewgosset Musk)
2-2-01 The Misbegotten Oregon Trail Journal Site: Omar Gookin's rousing tales of frontier adventure transcend adjectives, except perhaps for "stultifying." (Omar Gookin)
1-26-01 The Totally Unauthorized Dune Guy Website!: We also love unauthorized pages. And Dune Guy. We love Dune Guy. (Dune Guy)
1-23-01 Angel Blue: Come for the riot grrls, stay for the media bingo fun. (Angel Blue)
12-21-00 Lance and Eskimo Comix: A comic series about a boy, a girl, some more girls, and the ape who is their landlord. It's avant garde! It's cutting edge! It's jejune! (Laura)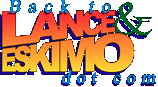 This site has been known to contain satire, lies, and profanity. Don't read it at school, or YOU WILL BE SUSPENDED.
All articles © copyright their respective authors.
Terms of Service | Site Map | Organizational Chart
Jobs at L&E | Advertise with Us | Contact | Home