QUIZZES
What kind of whatever are you? Find out by taking one of our battery of tests.
8-2-06 The "Guess the Most Popular Slash Pairing" Game: Do you have your finger on the pulse of fandom? Are you sure you want to? Research and programming assistance by Anna and Paul, respectively. (Laura)
3-23-05 Who's Your Ideal Top Gun Match?: Find out today! (Laura)
10-13-03 Old School Gaming Quiz (Part 2): You think you're so smart about your video games don't you? Part 1 was nothing more than a warmup! This is the real deal! (Slade)
9-26-03 The "What 'What X Are You Test' Are You?" Test: Yahtzee still doesn't know dick about HTML. (Yahtzee)
9-25-03 What's Your Major?: University students, don't waste another day! Find out NOW what your major is! (Jen)
9-24-03 An Assignment for English 111: The assignment: "Connect these six objects in a non-narrative document." Laura made a quiz. (Laura)
9-23-03 Star Wars Episode III Betting Book: There's no prize for this contest, because you can't put a price tag on human suffering. (Paul)
9-22-03 Are You a Zygote?: Are you sure? You'd better take this quiz and find out for certain. (Chefelf)
9-17-03 How Much Does Your Boyfriend Suck? I Mean Really! You Know What I Mean, Ladies. Huh? Huhhhh?: Former Girl Zone advice columnist Ariana Squirrel resurfaces showing her bitter stripes with a quiz that scientifically measures the suckiness of your current gentlemanlove. (Ariana Squirrel)
9-4-03 Which Wife of Henry VIII Are YOU?: The second in a series of tests revealing the member of a set of ladies who are of no interest to anyone but some serious nerds to whom you bear more than the most passing resemblance. (Come on, you can parse that!) (Anonymous Blonde)
9-1-03 Old School Gaming Quiz (Part 1): A simple quiz to test your knowledge of the video games of yesteryear. Well, to test your knowledge of Slade's opinions on the games of yesteryear. (Slade)
7-3-03 Can You Take Me to the Prom?: The Anonymous Blonde doesn't have any proms to go to right now, but if something comes up, she'll sure be happy to have this handy screening method for prospective dates! (Anonymous Blonde)
5-23-03 100 Better Questions: A follow-up, of sorts. (Yahtzee)
5-8-03 Which Suicidal Poetess Are You?: Well, didn't you always want to know? (Anonymous Blonde)
3-3-03 Name That Beauty Salon! (Part 2): Once again you must determine whether I made up the lousy salon name or if it is real. Godspeed, my dear friend. (Chefelf)
1-27-03 Name That Beauty Salon!: Do you have what it takes to determine which lousy beauty salon name is real and which lousy beauty salon name I made up? (Chefelf)
1-17-03 Where Are You Going When You Die?: It's probably best to make sure. (Yahtzee)
1-9-03 What Does 2003 Hold for You?: The Anonymous Blonde lets go of her resolutions -- and her illusions -- just so she can bring you a little New Year's clairvoyance. (Anonymous Blonde)
11-28-02 Your Love Horoscope for 12/02: This is the kind of love horoscope that asks you personality-test questions and then tells you your personality. So I guess it's a love personality test. (Anonymous Blonde)
11-5-02 Which Assassinated US President are You?: Strictly speaking, you are none of them, but you can always pretend. (Paul)
10-2-02 The Girls' Zone Role Models in Science Quiz: A sadistically difficult quiz about women in science. Yay, education. (Girls' Zone)
10-1-02 Killing a Boy: Are you so sure you know how? Take this quiz and find out. (Anonymous Blonde)
9-27-02 Fight Or Flight?: An entertaining little diversion in which you can learn how you would have fared during mankind's evolutionary history. (Yahtzee)
9-3-02 The Borscht Period: A Hippo Phenomenology: How much do you know about hippos? (Anonymous Blonde)
8-28-02 Can You Get AIDS From a Glass of Milk?: Find out in this new Girls' Zone Health Corner Feelin' Good About You, Girl! Teen Issues Quiz. (Girls' Zone)
7-31-02 Are You Boy Crazy?: Find out if, to you, boys drip alluringness or just mucous. Come on! Click! (Girls' Zone)
7-3-02 What Do Your Clothes Say About You?: Find out how what you put on in the morning--OR DON'T!!--affects every aspect of your whole entire life. (Girls' Zone)
5-29-02 What Kind of Lover is Your Lover?: The Girls' Zone beckons with this new quiz designed especially for those of you with Significant Others and/or Imaginary Sex Partners. (Girls' Zone)
5-14-02 What's Your Temperament? Personality Test/Medical Diagnostic Tool: This is the actual test administered by Galen right before he gave people mercury to eat. (Paul)
5-8-02 Do You Assume Too Much About Other People?: Find out in this new quiz by Nick! (Nick)
5-7-02 Comprehension Test of Something Some Crazies Gave Me on the Street: Time travel! The destruction of Jupiter! Those disturbing cervical rings that are popping up everywhere! It's all explained in this reading comprehension passage! (Paul and some crazies)
4-9-02 The 2001 Beer Commercial Report: Including an insight into the creation of Spuds the dog. (Paul)
4-3-02 What's Your Lip Gloss Personality?: Are you a Sweet Strawberry? A Wild Watermelon? Find out in this Girl Zone quiz! (Girls' Zone)
3-20-02 The Star Wars Episode II Betting Book: Just like horse racing, but there's only one horse, and it still loses. (Paul)
1-18-02 Are You Me?: Finally you can circumvent the lengthy standardized testing! Find out in a matter of minutes whether or not you are me from the convenience of your own dingy hermitage! (Yahtzee)
11-27-01 Sex Degrees of Separation: A little fun toy that will tell you how closely-related celebrities are, sex-wise. (Paul)
11-21-01 The What Kind Of Girl Are You? Quiz: Are you a good girl or a bad girl? Are you a Girly Girl? A Tough Girl? A Rebel? You need to know! You NEED to know! (Girls' Zone)
11-6-01 The L&E Boyfriend Generator: A brand new quiz that will actually generate a living boy. (Paul and Laura)
7-18-01 Are You a Serial Killer?: A handy quiz to finally answer that nagging question: Am I a serial killer? (Yahtzee)
5-30-01 The Are You A Girl? Quiz: Find out once and for all! (Girls' Zone)
3-16-01 Are You Nate's Girlfriend Material?: Find out if you're right for our own resident chef elf guy. (Laura and Paul)
3-7-01 Lance and Eskimo Comix Trivia Quiz: When it comes to L&E trivia, are you a Lance and Eskimo Samurai or Grasshopper? (Laura)
3-4-01 The Lance and Eskimo Career Aptitude Test (Short Version): This shorter but no less accurate version of the L&ECAT (or "Le Cat" as we like to call it) can give you your ideal career in just one (1) question. (Laura)
3-4-01 The Lance and Eskimo Career Aptitude Test: Find out your ideal career. Up to and including 27 career paths to choose from! (Laura)
2-5-01 The Lance and Eskimo Personality Test: You've spent years trying to figure out who you really are. Well, now thanks to the Internet, you can find out in minutes! (Laura and Paul)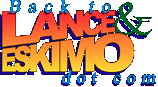 This site has been known to contain satire, lies, and profanity. Don't read it at school, or YOU WILL BE SUSPENDED.
All articles © copyright their respective authors.
Terms of Service | Site Map | Organizational Chart
Jobs at L&E | Advertise with Us | Contact | Home