The Day I Met Bruce Campbell - Part One
Bananas are a tropical fruit. They tend to grow in specific regions where it rains a lot. Over the course of decades, bananas have gradually evolved into a curved shape by a process known as natural selection. What this means is that nature realized curved bananas are more likely to survive than straight bananas.
But nature could never have realized what would be in store for me this fateful day. The Day I Met Bruce Campbell (Rated PG-13 for violence, inappropriate language, and brief nudity)!
I rendezvoused with Chefelf, Laura, and Paul. Although Yahtzee was not there in body, he was there in spirit, even though we didn't tell him about it until afterwards. But there's a slight time difference where we are, so he was probably getting really pissed at just about the same time we were meeting Bruce Campbell.
In any case, I decided to bring a banana along for protein. And the day I met Bruce Campbell, I knew I'd need all the protein I could get.
Two nights before we went to meet Bruce Campbell, I actually had a dream that I met Bruce Campbell. He was really cool and I enjoyed hanging out with him. And then I was on the campus of some university and Osama bin Laden was giving a lecture there and as he was walking away from the building he'd lectured in, I tried to moon him with my butt, but I was afraid he couldn't see it so I kept trying to get closer and closer because I was afraid he wasn't seeing me and then I tripped and fell down, though I'm afraid he still might not have seen my butt, though I didn't want to pull down my pants, even in my dream, because I was worried that people would see my butt, and I'm very shy.
I looked at my banana with expectancy. But then, suddenly, I realized something quite abnormal. This can't be! I thought. My banana actually had letters on it!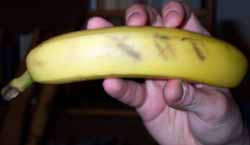 Eat me. I'm full of protein. I'm Tad the Banana.
Examining the banana closely, I was able to make out the name "Tad". I was shocked. My banana was trying to tell me something. But what? Laura thought the banana read "Tax" backwards. I think someone else thought it was "Tim", or that might just have been me thinking someone else thought it said "Tim". Amazing.
And so, me, Chefelf, Paul, Laura, Yahtzee (in spirit), and Tad the banana all made our way to Bruce Campbell. I even shaved for the occasion (which I rarely do) because I didn't want Bruce Campbell to get a bad impression of me. Laura and I were the only ones to groom our facial hair because we have "class".
Previous to this moment, I had of course purchased my very own copy of Bruce Campbell's autobiography. But in the bookstore, a dilemma suddenly unfolded before me. Two copies of Bruce Campbell's book remained at the local book megastore and I needed one of them. But which one? One was marked down by 20%, making it the obvious buy. Right? But no! The other book was a 2nd printing, while the 20% off book was a 5th printing! What to do? The 5th printing book might be cheaper now, but... ten years from now? What to do?