FUN
As you might expect, "fun" consists mostly of repeatedly uploading pages utilizing Perl's randomizing function----- with hilarious results!!!!!
10-8-03 Canada, Schmanada: You're an innocent lass about to brave the wilds of Canada to rescue Paul and Laura Redcloud. Will you survive, or will you be eaten by grizzly bears or imprisoned by Captain Nemo, or will something even more Canadian happen? A "choose your own adventure" adventure! (Paul)
7-22-03 Geeko!: If you haven't seen "The Screen Savers" on TechTV and you find this entertaining, well, then more power to you. (Paul)
6-24-03 Posto!: The name of this post-apocalyptic Bingo game is not meant to imply that the author liked "The Postman", though the part with Tom Petty was pretty cool. (Chris)
4-30-03 Quest for the Crown: Official Strategy Guide: Questwood Studios' QUEST FOR THE CROWN Official Strategy Guide features complete coverage of the latest game from the company that brought you THE SEARCH FOR MIGHTY-BREATH THE MAGIC PEGASUS. Players will find comprehensive walkthroughs for, as well as winning strategies for how to beat the game. In addition, area maps, detailed item lists and an all-inclusive character library are also provided. The best way to win is here! Warning: Spoilers Inside! (Nate & Paul)
4-29-03 Quest for the Crown: Paul and Nate have developed a hot new online RPG, and you'll get to be the first to play! (Paul and Nate)
4-8-03 Dress Up Paul: An actual, working dress-up doll of Paul! Now you can live out your fantasies of making him look slightly stupider than usual. Complete with Paul's actual wardrobe, including the Megadeth shirt with Vic Rattlehead and all the purple goo. (Paul)
3-13-03 The Anonymous Blonde's Printable Activity Fun Pages: Continuing her tradition of continuing the tradition of 50-year-old people putting stuff on the internet that doesn't belong there, the Anonymous Blonde brings you hot, printable pictures of her own luscious wardrobe--plus a luscious, limited-edition AB paper doll! (Anonymous Blonde)
2-27-03 Parlor Games for the Next Millennium: Have you ever really wanted to act out a play over IM, but you just didn't have an internet-friendly script to use? Once again, the Anonymous Blonde pulls you out of your rut of stupidity by the forelock and gives you the solution. (Anonymous Blonde)
1-27-03 Name That Beauty Salon!: Do you have what it takes to determine which lousy beauty salon name is real and which lousy beauty salon name I made up? (Chefelf)
1-22-03 Laura's First PHP Program: Last week Laura brought you a PHP program that she conceptualized and Paul actually designed. This week, she brings you a program SHE ACTUALLY WROTE--hence, it is not only intrinsically idiotic, but the content was given far less attention than the programming elements. Unfortunately, she had nothing else to put up this week, so enjoy! (Laura)
1-17-03 Where Are You Going When You Die?: It's probably best to make sure. (Yahtzee)
1-15-03 The Rabid Pro-Lizzie McGuire Hate Mail Creator: Now you no longer have to spend time typing out your own angry responses to Laura's Lizzie McGuire review, which is good news for 90% of her readers. (Laura)
11-18-02 Gerunds in the Movies: Now YOU can quickly generate the titles of upcoming movies! Astonish your friends by predicting the next box office failure! (Chefelf)
11-27-01 Sex Degrees of Separation: A little fun toy that will tell you how closely-related celebrities are, sex-wise. (Paul)
11-6-01 The L&E Boyfriend Generator: A brand new quiz that will actually generate a living boy. (Paul and Laura)
10-30-01 O Canada - a sequel of sorts: Who's more exciting than Laura? Paul. And what's more exciting than Japan? Canada. That's why our new choose-your-own-adventure travelogue is our most gripping yet. (Caolan)
9-10-01 Jerry Bruckheimer Plot Generator: Chefelf has journeyed through time to bring back plots and spoilers from the Jerry Bruckheimer movies of the future! (Chefelf)
8-28-01 Caption the Senator Contest: It's funny because they can say funny things. (Paul)
7-3-01 Ah, Japan: So Laura's in Japan for a month, that lucky stiff. No need to be jealous... with this choose-your-own-adventure, you can have the exact same experience she's having! (Paul)
6-27-01 The Lance and Eskimo Conversation Generator: Select your favorite L&E characters and generate conversations between them. It's fun! (Paul and Laura)
6-20-01 The Girls' Zone Gossip Page: A venue to exchange possibly life-destroying gossip. (Girls' Zone)
3-2-01 Angel Blue's Bingo Page: Now you can add competitive bingo fun to Pokémon, Sailor Moon, Robotech, Xena: Warrior Princess, Friends, superhero shows, Hawaii Five-Oh, and other quality TV shows. (Angel Blue)
2-20-01 Paul's Virtual Bar: It's lame to spend all night on the internet, but it's cool to spend all night in a bar, right? Now at Paul's Virtual Bar you can do both! (Paul)
2-9-01 The Random Talk Show Generator: Oh, those wacky talk shows. (Laura)
2-5-01 The Lance and Eskimo Personality Test: You've spent years trying to figure out who you really are. Well, now thanks to the Internet, you can find out in minutes! (Laura and Paul)
1-25-01 The Expletive Random Generator: Ever dropped a hammer on a foot, been dumped, or been turned into a swan by a mysterious curse, and not known how to express your chagrin? Let your computer do your cussin' for you. (Laura)
1-10-01 The Anime Title Random Generator: Now you can have limitless obscure anime shows to wish they would translate into English. Our favorite so far: "Manly Girl Kihika." (Laura)
1-2-01 This Glorious City Weather Report: What's the weather like in Lance and Eskimo's home town? Is it sunny? or is it raining men? (Paul and Laura)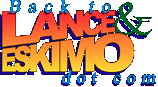 This site has been known to contain satire, lies, and profanity. Don't read it at school, or YOU WILL BE SUSPENDED.
All articles © copyright their respective authors.
Terms of Service | Site Map | Organizational Chart
Jobs at L&E | Advertise with Us | Contact | Home