FLASH FILMS
LanceandEskimo.com jumped on the Flash bandwagon with these ill-concieved films.
12-31-03 Videotape Living Will: Lefty's premiere flash film involves funny, funny coma humor. (Lefty)
8-5-03 The Laudry Demons: A photographic tour of Paul's soul, by way of his dirty linen. (Flash, 70k) (Paul)
7-24-03 Caolan's Birthday Movie: Paul's favorite girlfriend delivers a largely nonsensical, occasionally mean-spirited, consistently sloppy Flash tidbit that was originally used (in part) as a party invitation, and which appears exactly one week and one day before it will be relevant. Bon appetit! (PS: Did you know that Paul and his girlfriend have the same birthday?) (Caolan)
6-27-03 Ultra Scary Suddeny Frighty Ghosty Thing!: A parody. Or is that just what I want you to think? (Flash, 300k) (Yahtzee)
4-29-03 Quest for the Crown: Paul and Nate have developed a hot new online RPG, and you'll get to be the first to play! (Paul and Nate)
4-23-03 How they Localize Commercials: Paul continues his study of advertising by presenting four different regional versions of the same commercial. (Paul)
4-8-03 Dress Up Paul: An actual, working dress-up doll of Paul! Now you can live out your fantasies of making him look slightly stupider than usual. Complete with Paul's actual wardrobe, including the Megadeth shirt with Vic Rattlehead and all the purple goo. (Paul)
3-11-03 A New L&E Promo: We're launching a new, slick ad campaign. It's got gears in! (Paul)
9-25-02 Dr. Hansen's Face Wash Commercial: (Flash, 110k) Thirty seconds of hygienic adver-tainment! (Laura)
9-10-02 The Ballad of Slylock Fox: (Flash, 300k) For those of you with inadequate syndicated Sunday comics, Slylock Fox is a sleuth who outwits Paul every week with elegant solutions to clever conundrums. This film is Paul's revenge. (Paul)
6-11-02 An Irish Tale: (Flash 6, 240k) What do you get when you cross a family of Irish immigrants with an object of ultimate evil? Dare we say fun-larity? (Paul)
4-2-02 Bilbo the Talking Gondar: (Flash, 170k) A disastrous foray into the world of children's television. (Paul)
12-18-01 A Charlie Brown Christmas DVD: (Flash, 900k) Of all the flash films we've ever made, this one is the charlie browniest. (Paul)
12-4-01 Paul's Dream: (Flash, 67k) Starring the Hardy Boys. (Paul)
11-16-01 British Road Signs Sing Gloria Gaynor: (Flash, 230K) Imagine a world where road signs get together and illustrate lyrics from Gloria Gaynor songs. Imagine no more! (Yahtzee)
11-6-01 The L&E Boyfriend Generator: A brand new quiz that will actually generate a living boy. (Paul and Laura)
9-21-01 Rob & Paul: (Flash, 1.4 mb) Yahtzee's characters, Rob and Paul, adventure through the world of popcorn, B-movie actors and poor lip synching. (Yahtzee)
6-11-01 Gnomesong!: (Flash, 1mb) Chefelf's first film. Depending on box office revenue, maybe his last. (Chefelf)
4-24-01 The Carl Sagan Song : (Flash, 112k) Our latest animation is dedicated to the late, great Carl Sagan. (Paul)
3-9-01 Paul's Ignorant Octopus Spin Doctor: Our most ambitious, and, arguably, our most enigmatic film. (Paul)
2-14-01 The Worst Film Ever: Well, second worst. According to our bastards to the north. (Paul)
2-1-01 The Official "The Day Chris Said "Wicked Fine"" Gush Page: If there's 3 things we love, they're official pages, poorly executed flash, and nested quotes. This page offers all three. (Paul and Laura)
1-18-01 Glen Yarbrough: (shrugs) Some folk guy. (Paul)
1-12-01 The Empress is Dying: An unfinished drama about an empress, and a princess, and some jam, and a boy who looks like a toad. (Caolan)
1-4-01 The Binary L&E Promo: Get ready for some pulse-pounding technological fun, and poop. (Paul)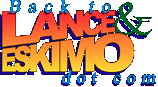 This site has been known to contain satire, lies, and profanity. Don't read it at school, or YOU WILL BE SUSPENDED.
All articles © copyright their respective authors.
Terms of Service | Site Map | Organizational Chart
Jobs at L&E | Advertise with Us | Contact | Home