Credits
The Brothers Redcloud

Nate (Chefelf)
Professional Grudge Holder
Age: 36
Blood Type: O Positive
Email: nate@lanceandeskimo.com
Home Page: Chefelf's Home Base
Blog: chefelf.com
AIM Screen Name: Chefelf
Responsible for:
Some site design (this page, for example). Hard-nosed marketing tactics such as submitting the website to a variety of search engines on a daily basis. Bookkeeping (seriously).
Latest Article:
NHL Playoff Commercial Review (Rounds 1 & 2)
Blazing new trails in experimental fiction is a top priority for Chefelf. His novels break all the rules and have captured a huge audience. His unique works have gone on to receive numerous awards.
Oh, wait, our mistake, that is actually the biography of Dara Joy, USA Today best-selling author of Ritual of Proof. Chefelf's biography is as follows:
Chefelf is a 36 year old culinary cutie who hails from idyllic Rhode Island, and no, that's not a whisk in his pocket, he's just glad to see you!
Turn ons: Coffee, The Lovin' Spoonful, and Lance Armstrong (meow!!!)
Turn offs: Contact lenses, Yonkers, NY and reporters!!!!
--Jen (Chefelf's girlfriend)




Paul
Master of Disguise
Age: 37
Blood Type: O Positive
Email: paul@lanceandeskimo.com
Home Page: Paul (Redcloud Brother)
AIM Screen Name: Paulmeats
Responsible for:
L&E site design. Most of the Flash films. Most of the programs. Some articles.
Latest Article:
Lance and Eskimo Do the Dishes
BIO: Paul? Wait. A bio like... the story of my life?




Laura
America's Sweetheart
Age: 27
Blood Type: O Negative
Email: laura@lanceandeskimo.com
Home Page: Laura's Digital Journal
Blog: bear.librarian.Rock Star!
AIM Screen Name: Lance Redcloud
Also responsible For:
Lance and Eskimo Comix Not just the webdesign, but the writing, art, and original character conceptions of Lance and Eskimo. (Co-creator: Alison Hird)
The Girls' Zone Celebration of feminity. Lots of quizzes.
Latest Article:
Soon-to-be Extinct Candy: Twilight Conversation Hearts
Laura enjoys eating drumsticks (the ice cream kind) and kissing. She likes things to be in alphabetical order, and then, if the names are the same, chronological.




Jacques
Time Bandit
Age: Unknown
Blood Type: Unknown
Email: jacques@lanceandeskimo.com
Home Page: universaloddities.com
Latest Article:
Halloween Article?
Laura is cool.




Yahtzee
Trans-Atlantic Compatriot
Age: 29
Blood Type: O Positive
Email: yahtzee@lanceandeskimo.com
Home Page: FullyRamblomatic.com
Blog: FullyRamblomatic.com
Latest Article:
Cowboy Comics Vol. 2
Yahtzee would as soon look at you as kill you.
Contributing Writers
Amber-Nicole A Floridian fan with more than a few problems about game shows
Annajones Lover of Jacques, hater of most other things [website]
The Anonymous Blonde High-society New York socialite and academic whose areas of expertise include literature, fine wines, and ladies that Paul loves
Caolan Paul's girlfriend and Rory's sister (creepy, huh?)
Chris A jackass whose path just happens to run parallel to that of the Brothers Redcloud
Heccubus Yet another Canadian that is involved with our site [website]
Henry A boy with a trench coat that grew up to be a man with a trench coat
Jake Lover of Scorpions (the band, not the animal) and spirits (liquor, not ghosts) [website]
J.M. Hoffman The only L&E contributor whose name sounds like some sort of financial group or real estate company
Jen Caolan met this Canadian hellraiser in France and now she's Nate's girlfriend! Isn't that weird?
Kat Longtime message-board poster who occasionally gets suspended from school for supporting our site
Lewgosset Musk The future ruler of the world, Lewgosset Musk lives literally inside the LanceandEskimo server.
Mama Redcloud Matriarch of the Redcloud family and she's married to Papa Redcloud!
Mr. Fabulous Faithful reader and Motor City resident
Nick California non-surfer extraordinairre and two-time prom date of Laura
Papa Redcloud Paul and Laura's crazily intellectual dad
Pixy A girl whose talent, insight and beauty are only equalled by her love for Diet Coke [website]
Raka A message-board dweller with the knowledge of all worlds [website]
Rory Caolan's brother, Laura's friend; a hateful being; enjoys role-playing games [website]
Slade A message-board dweller with real boobs [website]
Srmoore A man that knows far more about computers than the rest of us and has a soft spot for Charlize Theron [website]
Tasha Silver Lovely yet mysterious friend of Laura and Rory, both of whom at one time knew her only as "Absinthe" [website]
Vegeta Girl The only female Super Saiyan
Rachel Von Karajan A sweet, cute little goth girl
Zach No not that Zach, another Zach! [website]
Special Thanks
Lefty
Friend in Deed
Visit our friends at Polymorph Want a Cracker, where, among other things, Nate, Laura, Paul and Caolan dabble in voice-acting.
Chris Maxwell
Lord of the Internet
Chris Maxwell is the person most responsible for making this site possible and he got no credit, until now. Chris, of the Scottish hosting company interscot.net, runs the L&E server, making all of the great features on this site possible. Paul and/or Nate will email him approximately three times a day with insane questions and requests and Chris Maxwell always gets back to us IMMEDIATELY, having solved all our problems. If we email him at 12:00 p.m. we will hear back from him within 10 minutes. If we email him at 4:00 a.m. we will hear back from him within 10 minutes. We suspect either that he sleeps under his desk at work, and has his e-mail inbox wired up to an alarm clock, or that Interscot is staffed by a bunch of Chris Maxwell clones. If so, we're throwing all of our moral and ethical qualms about cloning right out the window. Humanity be damned! More Maxwells!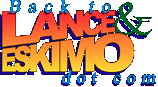 This site has been known to contain satire, lies, and profanity. Don't read it at school, or YOU WILL BE SUSPENDED.
All articles © copyright their respective authors.
Terms of Service | Site Map | Organizational Chart
Jobs at L&E | Advertise with Us | Contact | Home