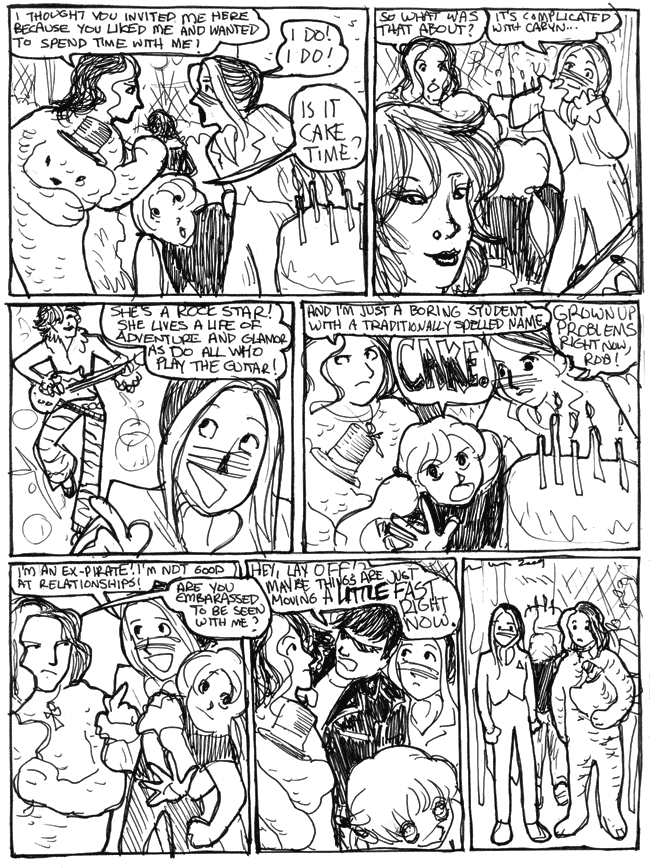 Give it up, Eskimo. Girls don't really buy that excuse.
KAREN: I thought you invited me here because you liked me and wanted to spend time with me.
ESKIMO: I do!
ROBBIE: Is it cake time?
KAREN: Well, what was that about?
ESKIMO: It's complicated with Caryn. She's a rock star. She lives a life of adventure and glamor, as do all who can play guitar! Also her name is spelled with a "y".
KAREN: And I'm just a dumb boring student who spells her name with an "E".
ROBBIE: CAKE.
ESKIMO: Grown up problems right now, Rob! (to Karen) Listen, I'm an ex pirate, I'm not good with relationships.
KAREN: Are you embarrassed to be seen with me?
LANCE (suddenly appearing): Hey, lay off! Maybe things are just moving a little fast right now!
Eskimo and Karen and Robbie stare after him, surprised.