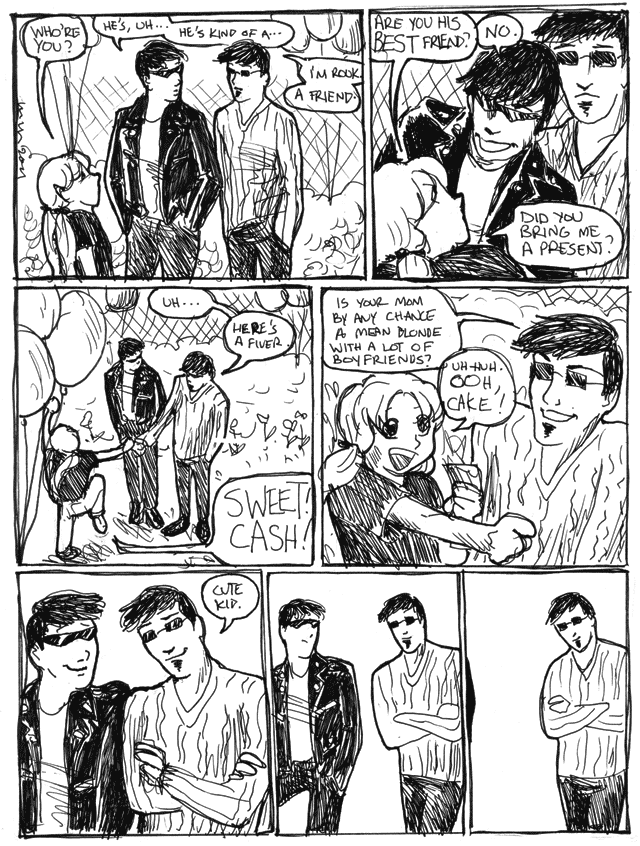 Hi! Has it been three months? It doesn't feel like it's been three months. Yikes. Sands through the hourglass!
Ask and ye shall receive: Matt pointed out that there are still people checking for updates on this thing, and I was like, "Oh yeah!" I wrote four comics that I never uploaded, so you'll get updates today, Thursday, Friday, and Saturday at 3 PM. Because, why not.
This won't bring us to the end of the storyline, which I have not even scripted. Ha ha ha! We'll see if that gets done! Saturday's stopping place will be a better one, though.
This storyline has really suffered for the long breaks. I'm not even sure what's happening right now. This is probably a bad sign.

ROBBIE: Who're you?
LANCE: He's, uh… He's kind of a…
ROOK: I'm Rook. A friend.
ROBBIE: Are you his BEST friend?
LANCE: No.
ROBBIE: Did you bring me a present?
ROOK: Uh… here's a fiver.
ROBBIE: Sweet! Cash!
ROOK: Is your mom by any chance a mean blonde?
ROBBIE: Uh-huh. Oh, cake! (prances off)
ROOK (posing near Lance, couple style): Cute kid.
LANCE: Yeah.
Lance edges out of frame.
Lance edges further out of frame.