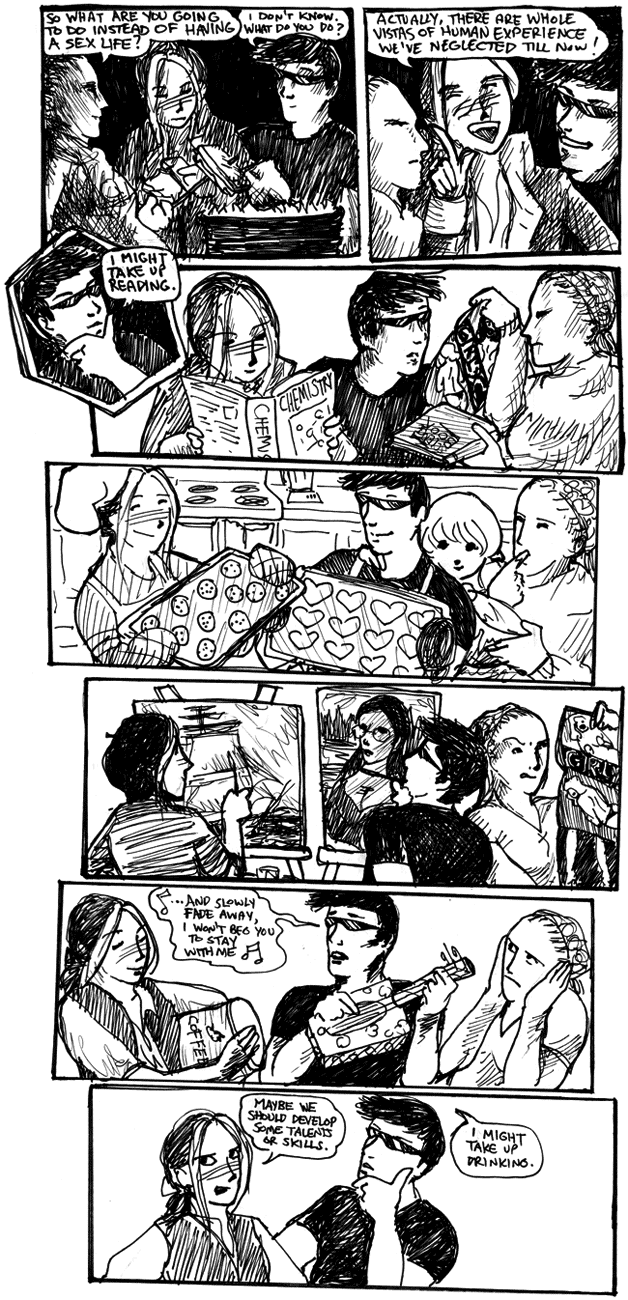 Undoubtedly setting the tone for 2009, I forgot to schedule this comic for some reason. Luckily, I did already draw, scan, and upload the image, or I would be in trouble, since I'm still away on Christmas break! (It's Christmas Eve for me right now. It's…weird.)
Wow, I've never seen Lance be mean to anyone before! I guess we was bound to give Krys a bit of her own back sometime.
I find the makeshift band panel somewhat jarring here, because, from my knowledge of television, I naturally assume the montage has some kind of musical background, but then there's different music in it! I guess we have to assume that the whole beginning part of the montage is scored with a jaunty instrumental rendition of "Angel of the Morning."
KRYS: So what are you guys going to do instead of having a sex life?
LANCE: I don't know. What do you do?
ESKIMO: Actually, there are whole vistas of human experience we've neglected till now!
LANCE: I might take up reading.
* Eskimo reads a chemistry book; Krys takes away Lance's girly magazine and replaces it with a real book
* Eskimo makes chocolate chip cookies; Lance makes heart shaped cookies; Krys licks the batter dubiously
* Eskimo paints a ship at sea; Lance paints Carole; Krys examines the girly magazine dubiously
* Eskimo plays a coffee tin tom-tom; Lance plays a tissue box guitar and sings "And slowly fade away. I won't beg you to stay with me." Krys covers her ears.
ESKIMO: Maybe we should develop some talents or skills.
LANCE: I might take up drinking.