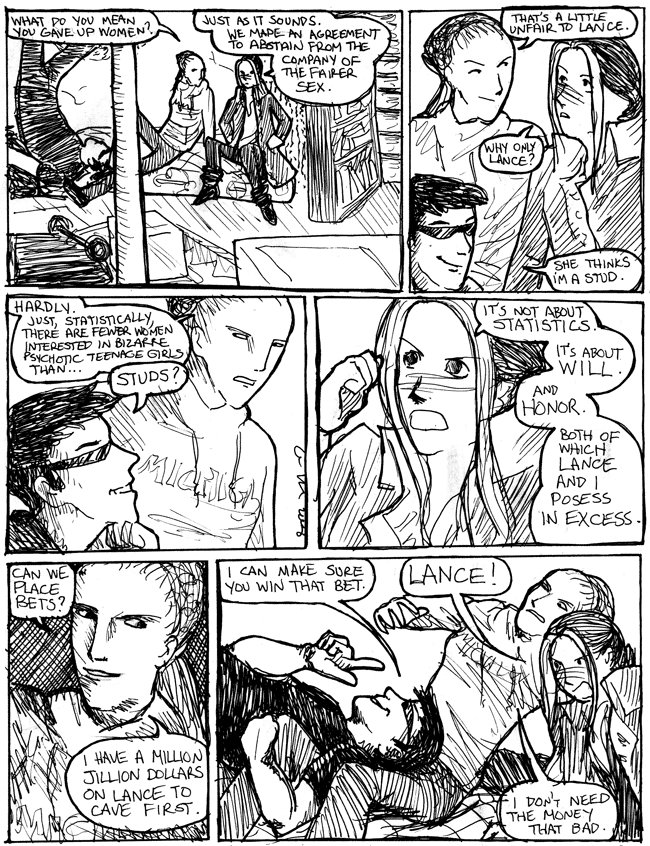 Find the spelling mistake in this comic!
KRYS: What do you mean you gave up women?
ESKIMO: Just as it sounds. We made an agreement to abstain from the romantic company of the fairer sex.
KRYS: That's unfair to Lance, isn't it?
ESKIMO: Why Lance?
LANCE: She thinks I'm a stud.
KRYS: Hardly. Just statistically, there are fewer women interested in psychotic awkward teenage girls than… you know…
LANCE: Studs?
ESKIMO: It's not about statistics. It's about will. And honor. Both of which Lance and I possess in excess.
KRYS: Can we bet on who caves first? I'll take a million jillion dollars on Lance.
LANCE: I can make sure you win that bet.
ESKIMO: Lance!
KRYS: I don't need the money that bad.