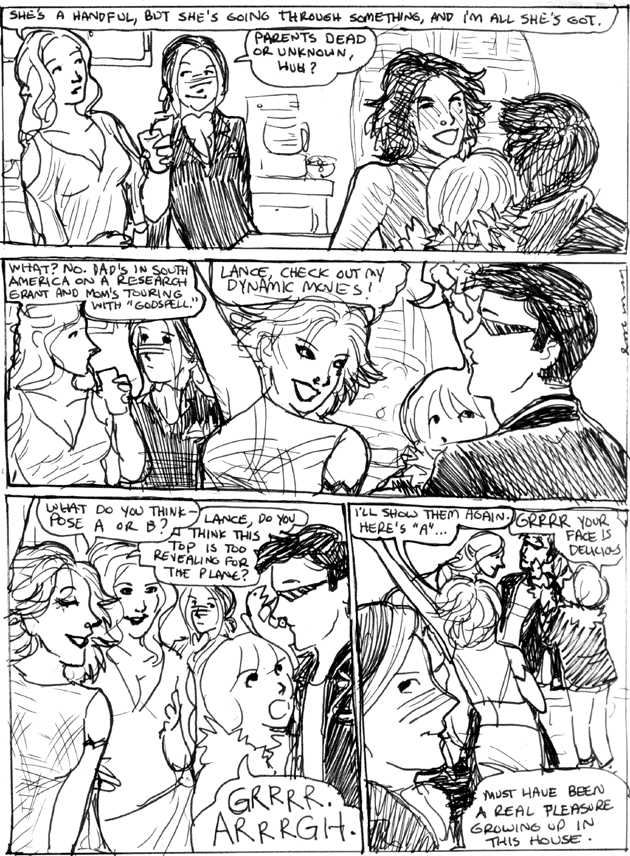 Jeria and Caryn's mother isn't an actress. She's just a big fan.
ETA: The next comic will be LATE due to my trying something experimental which isn't necessarily working out, and also playing too much Rock Band.
JERIA: She's a handful, but she's going through something, and I'm all she's got.
ESKIMO: Parents dead or unknown, huh?
JERIA: What? No. Dad's in South America on a research grant and Mom's touring with "Godspell."
CARYN: Check out my dynamic moves!
JERIA: Lance, do you think this top is too revealing for the plane?
CARYN: What do think–pose A or B?
ROBBIE: Grrrr. Arrrgh.
CARYN: I'll show them again. Here's "A"…
ROBBIE: GRRAAARRRGH! YOUR FACE IS DELICIOUS!
ESKIMO: It must have been a real pleasure growing up in this house.