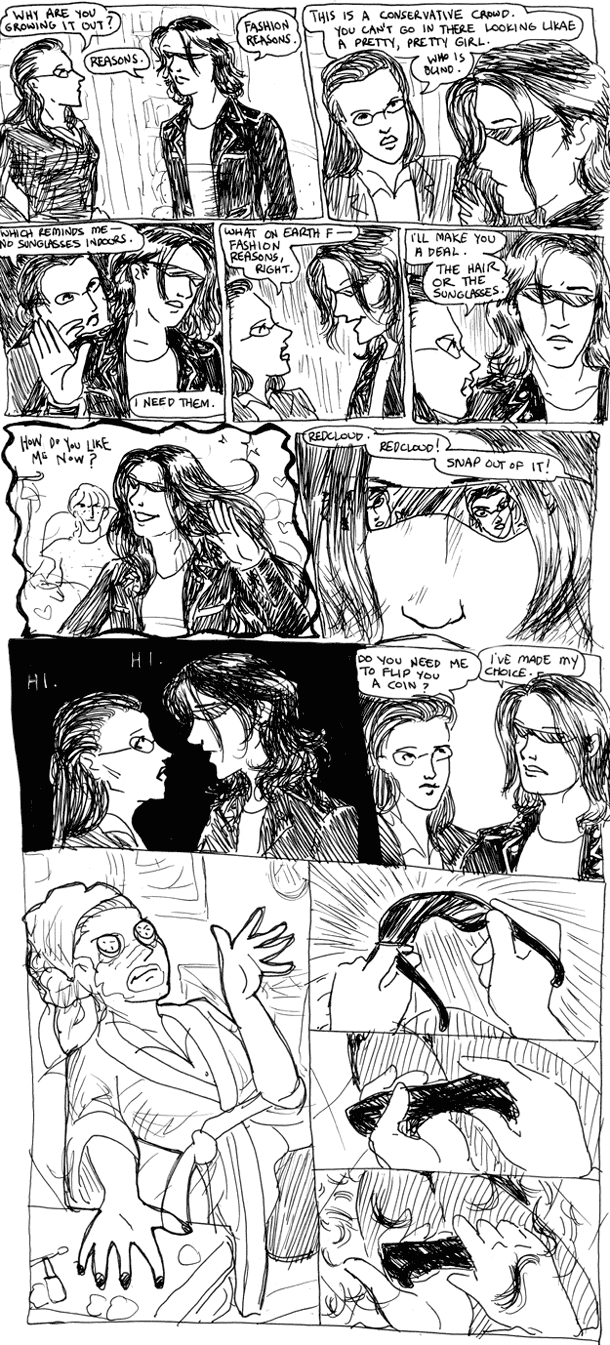 Nooooooooo! Lance! Not the hair! I loved the hair! I loved drawing it.
(Not that I make these appearance choices for anything but the most solid of plot reasons.)
Somehow Eskimo manages to make makeover towels, face goop and cucumber eyes look badass.
PICKERING: Why are you growing it out?
LANCE: Reasons. Fashion reasons.
PICKERING: This is a conservative crowd. You can't go in there looking like a pretty, pretty girl. Who is blind. Which reminds me–no sunglasses indoors.
LANCE: I need them.
PICKERING: What on earth f–fashion reasons, right. I'll make you a deal. The hair or the sunglasses.
Lance looks horrified.
He imagines standing in Leggy Peggy's hospital room with long, beautiful hair: "How do you like me now?"
Reflected in his sunglasses, we see Pickering's face.
PICKERING: Redcloud. Redcloud! Snap out of it!
Lance and Pickering face each other for a long moment.
PICKERING: Hi.
LANCE: Hi.
PICKERING: Do you need me to flip you a coin?
LANCE (grimly): I've made my choice.
Eskimo gets a facial and a manicure.
Hands hold sunglasses.
Lance folds them closed in his lap.
Hair cuttings tumble.