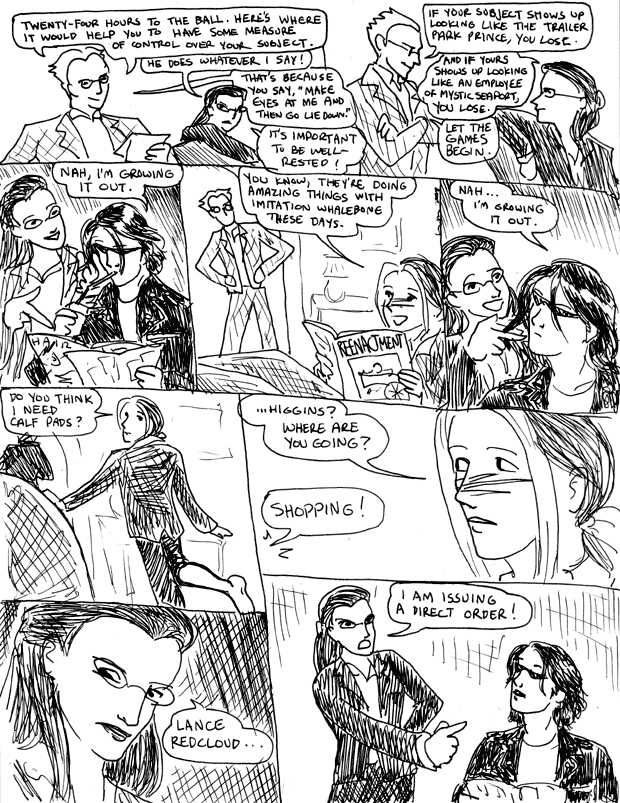 I wonder if Pickering knows what she's getting into. I can guarantee you Lance likes her like this: he always does seem to like being ordered about. But what's she got against the hair? I think it's glorious.
HIGGINS: Twenty-four hours to the ball. Here's where it would help to have some measure of control over your subject.
PICKERING: He does whatever I say!
HIGGINS: That's because you say, "Make eyes at me and then go lie down."
PICKERING: It's important to be well-rested!
HIGGINS: If your subject shows up looking like the trailer park prince, you lose.
PICKERING: And if yours shows up looking like an employee of Mystic Seaport, you lose.
HIGGINS: Let the games begin.
Pickering points to a a hair magazine while Lance sips a Coke disinterestedly.
LANCE: Nah, I'm growing it out.
Higgins stands in a doorway as Eskimo reads "Reenactment" magazine.
ESKIMO: You know, they're doing amazing things with imitation whalebone these days.
Pickering makes "chop chop" motions on Lance's hair.
LANCE (looking annoyed): Nah… I'm growing it out.
Eskimo looks at her legs in a mirror.
ESKIMO: Do you think I need calf pads? …Higgins? Where are you going?
HIGGINS (from off-camera): Shopping!
Pickering steels herself.
PICKERING: Lance Redcloud… I am issuing a direct order!