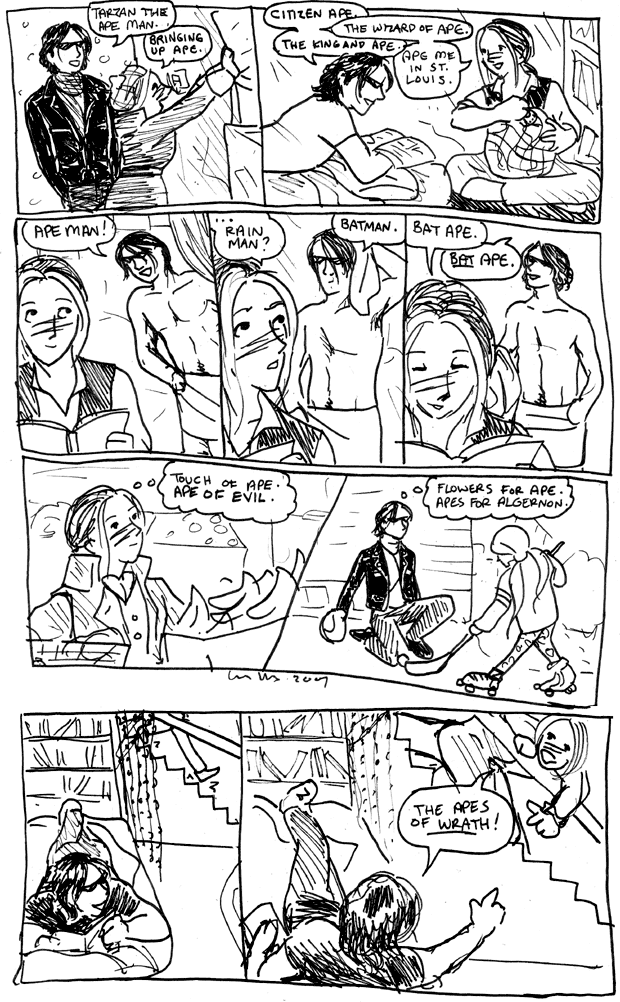 Drew this at an all-day meeting at work. I guess it's pretty obvious where the page break was.
I love this strip; it's so comfortable hanging around with Lance and Eskimo and being invited in on their in-joke.
More shameless Lance topless shots, and a slight in-joke for anyone who lives sufficiently in my head to remember the faraway forgotten piece of Lance backstory which is that he once had to do a book report on Flowers for Algernon. (I'm talking to you, Paul.)
The Script
LANCE: Tarzan the Ape Man.
ESKIMO: Bringing Up Ape.
LANCE: Citizen Ape.
ESKIMO: The Wizard of Ape.
LANCE: The King and Ape.
ESKIMO: Ape Me In St. Louis.
LANCE: Ape Man!
ESKIMO: … Rain Man?
LANCE: Batman.
ESKIMO: Bat Ape.
LANCE: Bat Ape!
ESKIMO (thinking, while at the grocery store): Touch of Ape. Ape of Evil.
LANCE (thinking, while playing hockey with Robbie): Flowers for Ape. Apes for Algernon.
(Lance grins, hearing Eskimo run down the stairs to the basement. They point at each other.)
LANCE AND ESKIMO: The Apes of Wrath!