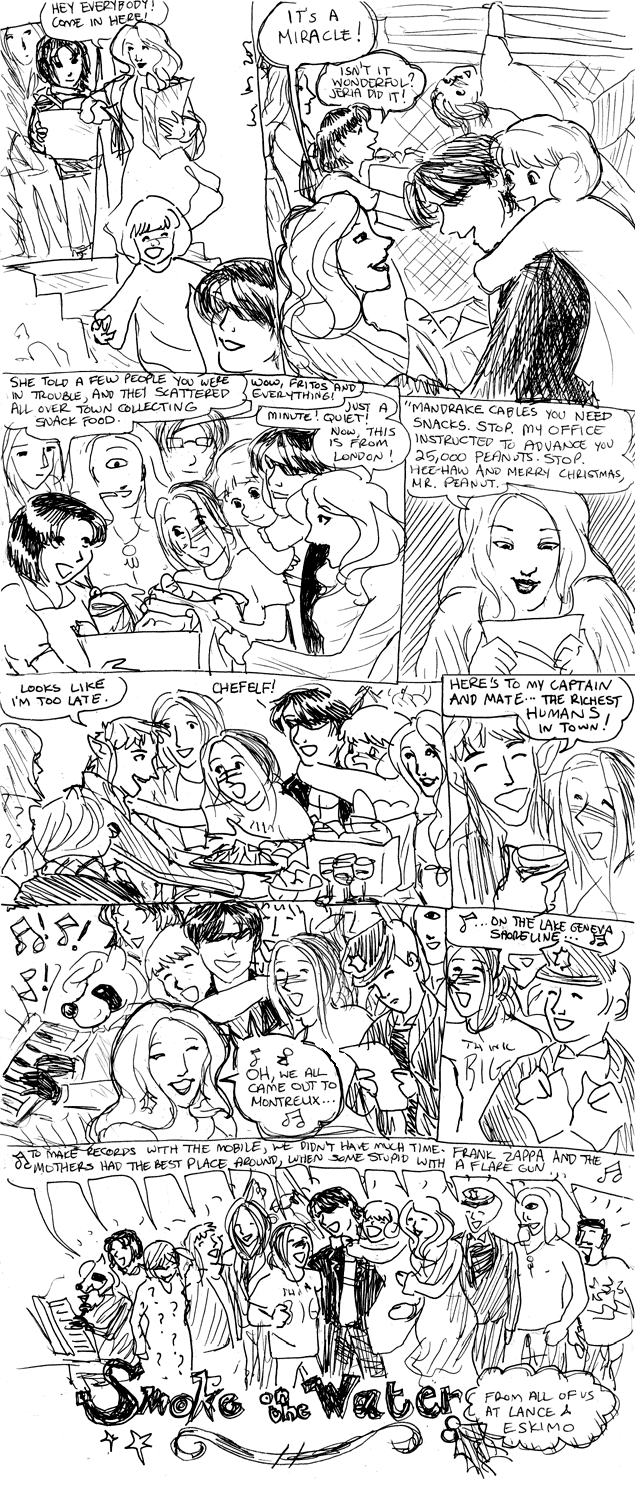 So Eskimo didn't so much disappear in a puff of smoke yesterday as she produced a puff of smoke which obscured her jumping up to cling to the pipes near the ceiling. I guess that's reasonable… I guess.
I really made a dog's breakfast of spelling "Chefelf." After scanning I had to rearrange pretty much all of the letters after "CH."
This seems like the end, doesn't it? But there's one more page tomorrow. After that, a break!
Jeria, Robbie, Krys, Phil and everyone return with bags of groceries.
JERIA: Hey, everybody! Come in here! It's a miracle!
PHIL: Isn't it wonderful? Jeria did it.
Robbie jumps on Lance's back.
PHIL: She told a few people you were in trouble, and they scattered all over town collecting snack food.
JAMES GURLEY: Wow, Fritos and everything.
JERIA: Just a minute! Quiet! Now, this is from London. 'Mandrake cables you need snacks. Stop. My office instructed to advance you 25,000 peanuts. Stop. Hee-haw and Merry Christmas, Mr. Peanut.'
CHEFELF (entering): Looks like I'm too late.
LANCE AND ESKIMO: Chefelf!
CHEFELF: Here's to my captain and mate… the richest humans in town!
Mandrake starts playing the piano.
CAST (singing): Oh, we all came out to Montreux…
The cop rips up the warrant (?? she had a warrant?)
COP, CAST (singing): On the Lake Geneva shoreline…
CAST (singing): To make records with the Mobile, we didn't have much time. Frank Zappa and the Mothers had the best place around, but some stupid with a flare gun…
SMOKE ON THE WATER from all of us at Lance & Eskimo.