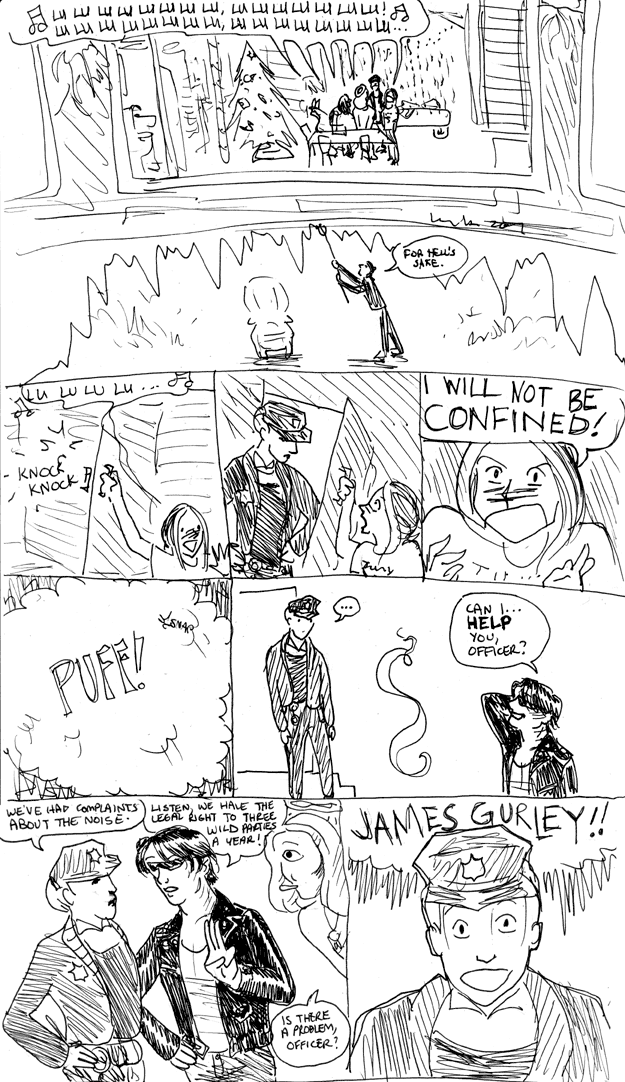 If you don't know what they're singing, clearly you need to watch The Charlie Brown Christmas DVD.
Here's the original 1998 Holiday Special equivalent of this page. The cop got less belligerent and more confused, Eskimo got a wacky physically impossible schtick of her own, and Lance… well… he's facing in the opposite direction.
CAST: Lu lu lu lu lu lu lu lu, lu lu lu lu lu lu lu! Lu lu lu lu lu lu lu, lu lu lu lu lu lu lu…
SATAN (knocking on the ceiling with a broom): For Hell's sake.
There's a knock on the cellar door.
ESKIMO (singing, reaching for the door): Lu lu lu lu….
Eskimo is alarmed to find a police officer standing at the door.
ESKIMO: I WILL NOT BE CONFINED!
She disappears in a puff of smoke.
OFFICER: …
LANCE (brushing his hair back): Can I… help you, Officer?
OFFICER: We've had complaints about the noise.
LANCE: Listen, we have the legal right to three wild parties a year!
JAMES GURLEY: Is there a problem, Officer?
OFFICER: James Gurley!!