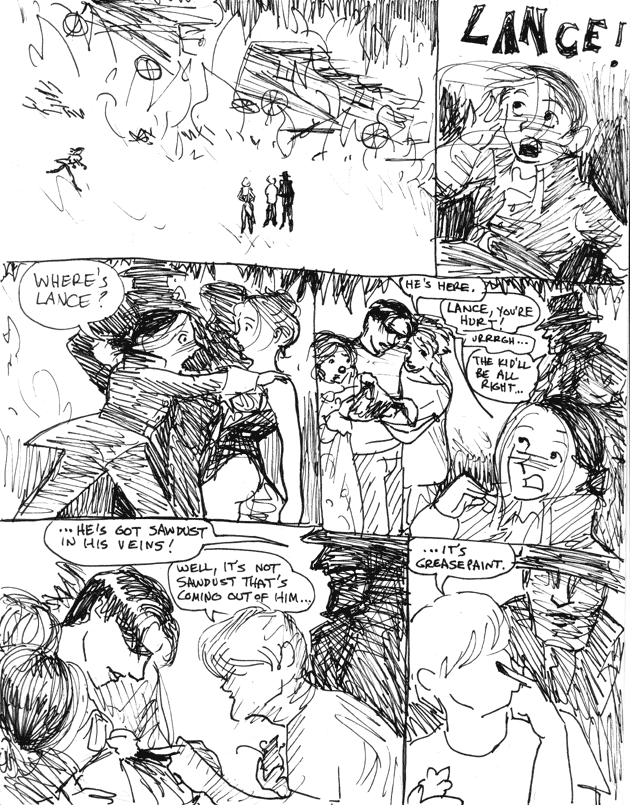 A joke from the original! Which is why it's a direct takeoff on a line in Greatest Show on Earth instead of, you know, some stuff I made up.
It is not clear to me whether Lance hurt his arm in some non-cutting way–e.g. dislocated–and got it covered in greasepaint as well, or whether he is actually bleeding greasepaint. The intention in the original was definitely the latter, I think. You may choose to believe what you wish. I think both are equally viable in this plane of reality.
The train is stopped on the tracks, engulfed in flames. Selene, Bob, and the Boss stand at a distance, watching the wreckage. Eskimo runs across the field.
ESKIMO: LANCE! (grabbing Selene by the shoulders) Where's Lance?
Kyra and Toggles approach, supporting Lance between them.
KYRA: He's here.
ESKIMO: Lance, you're hurt!
LANCE: Urrrgh…
BOSS: The kid'll be all right… He's got sawdust in his veins!
BOB (touching Lance's arm): Well, it's not sawdust that's coming out of him… (licking his finger) It's greasepaint.