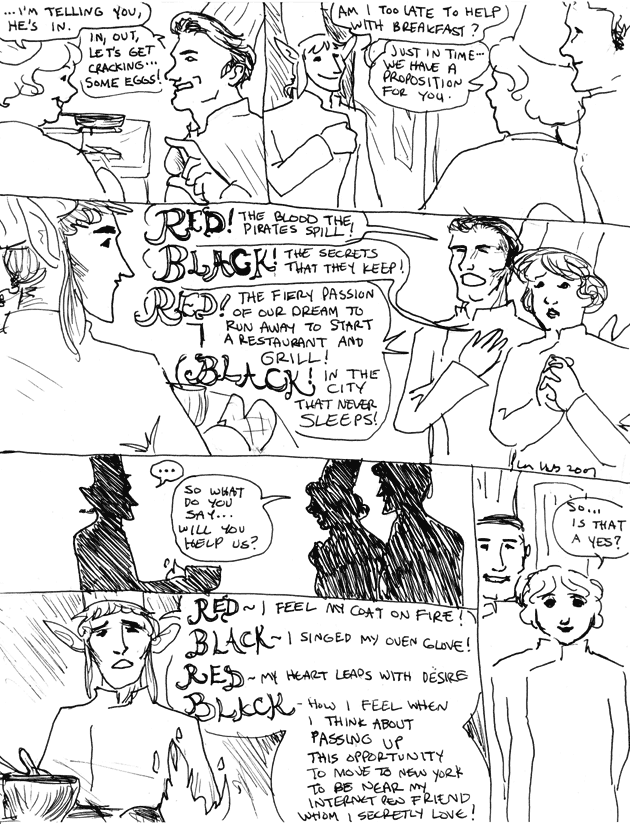 A song from Les Miserables? Now you're just going off the deep end, Laura. Actually, I had to get some exposition in, and I thought "in song" was the best way to do it.
FEMALE CHEF: I'm telling you, he's in.
MALE CHEF: In, out. Let's get cracking… some eggs!
CHEFELF (entering the kitchen): Is it too late to help with breakfast?
FEMALE CHEF: Just in time… we have a proposition for you.
MALE CHEF: Red! The blood the pirates spill!
FEMALE CHEF: Black! The secrets that they keep!
MALE CHEF: Red! The fiery passion of our dream to run away and start a restaurant and grill!
FEMALE CHEF: Black! In the city that never sleeps!
CHEFELF: …
FEMALE CHEF: So what do you say? Will you help us?
CHEFELF: Red - I feel my coat on fire!
Black - I singed my oven glove!
Red - My heart leaps with desire!
Black - How I feel when I think about passing up the opportunity to move to New York to be near my Internet pen friend whom I secretly love!
FEMALE CHEF: So… is that a yes?