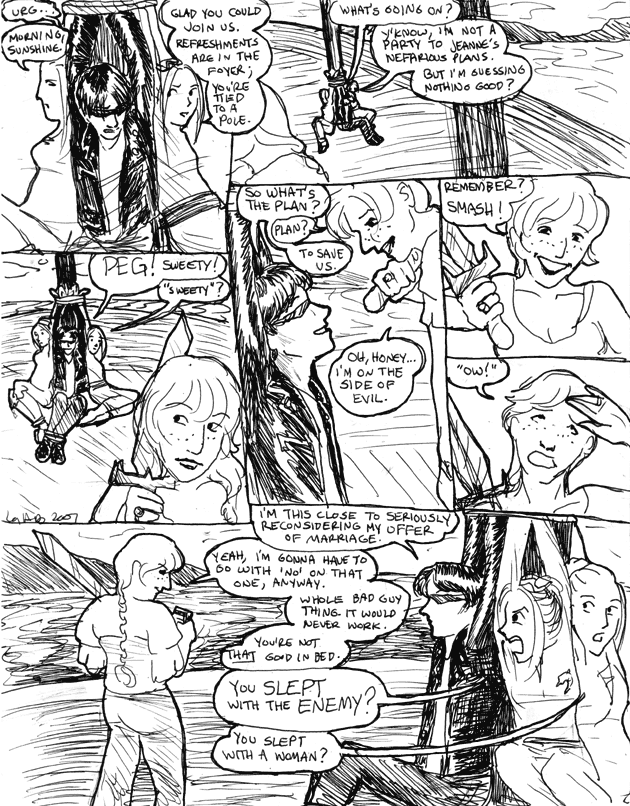 I like how Peggy makes fun of Lance for falling unconscious when hit hard on the head with a blunt instrument. Pansy!
When Lance comes to, he's tied to the mast with Krys on one side and Eskimo on the other.
LANCE: Urg…
KRYS: Morning, sunshine.
ESKIMO: Glad you could join us. Refreshments are in the foyer; you're tied to a pole.
LANCE: What's going on?
ESKIMO: Y'know, I'm not a party to Jeanne's nefarious plans. But I'm guessing nothing good?
Lance sees Peg standing guard across the deck, sword over her shoulder.
LANCE: Peg! Sweety!
PEG: "Sweety"?
Peg approaches and looks down at her prisoners.
LANCE: So, what's the plan?
PEG: Plan?
LANCE: To save us.
PEG: Oh, honey… I'm on the side of evil. Remember? [She mimes with her sword.] Smash! [She puts her hand on her brow, imitating fainting.] "Ow!"
LANCE: I'm this close to seriously reconsidering my offer of marriage.
PEG: Yeah, I'm gonna have to go with 'no' on that one, anyway. Whole bad guy thing. It would never work. You're not that good in bed.
ESKIMO: You slept with the enemy?!
KRYS: You slept with a woman?