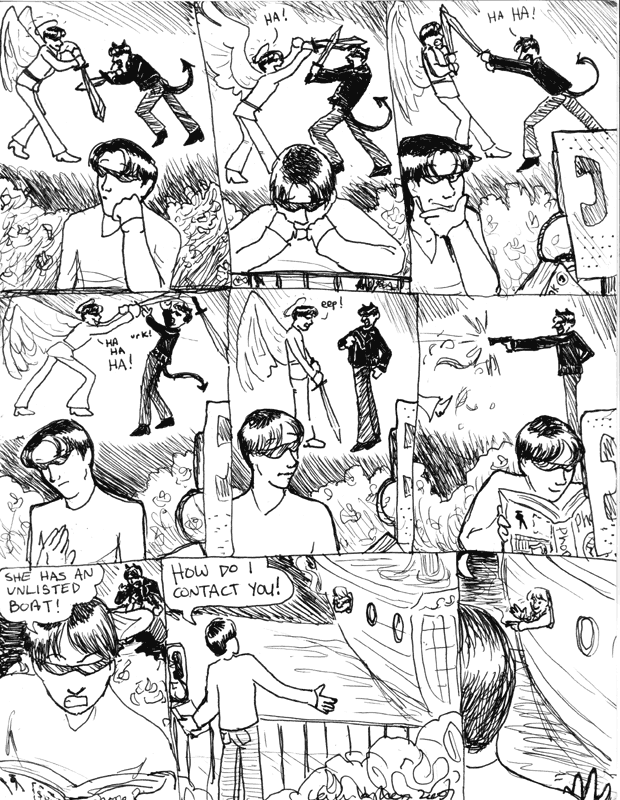 It's a little hard to see, but the drama between AngelLance and DevilLance in their last panel is my favorite part of the strip: AngelLance gripping DevilLance's lapels, as if to say with his last breath, "You're all he has now; lead him well," and DevilLance cringing as if to say, "Ew, you're bleeding on my coat."
Angel Lance and Devil Lance wage a broadsword fight. Lance sighs; Angel Lance gains ground.
ANGEL LANCE: Ha!
Lance strokes his chin, looking at a pay phone; Devil Lance gains ground.
DEVIL LANCE: Ha ha!
Lance holds up a "no thanks" hand at the phone. Angel Lance disarms Devil Lance.
ANGEL LANCE: Ha ha HA!
DEVIL LANCE: Urk!
Lance reconsiders; Devil Lance pulls out a gun.
ANGEL LANCE: eep!
Lance opens the phone book; Devil Lance blows Angel Lance away.
LANCE: She has an unlisted boat!
He turns to the dock, where at the nearest boat Peggy is smoking out of a porthole.
LANCE: How do I contact you!
Peggy waves.