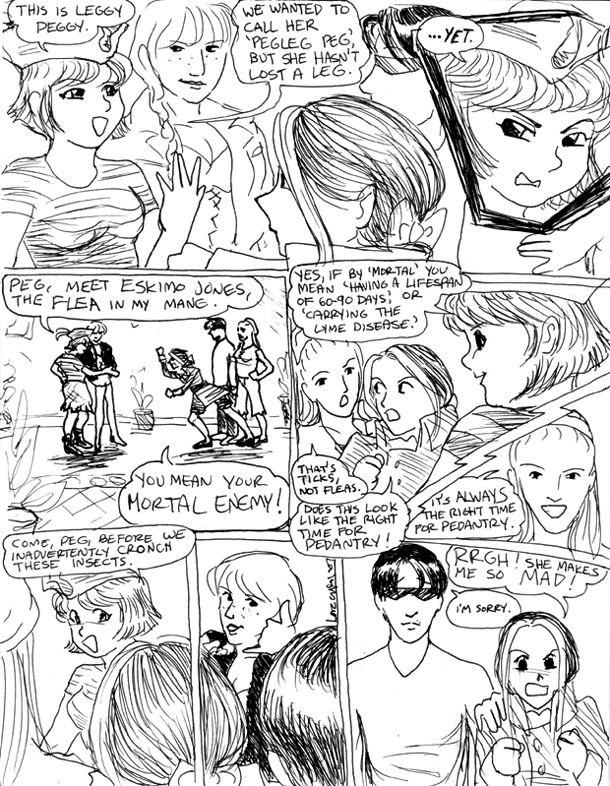 The thing about Peggy's name is from the original comics. Possibly it was Alison's idea? (How come I only seem to salvage the parts of my old comics that were suggested or worded by somebody else? Perhaps I do not have such a high opinion of myself…)
Oh, no! Is Lance's "I'm sorry" a consolation or a preemptive apology?
JEANNE: This is Leggy Peggy. We wanted to call her 'Pegleg Peg,' but she hasn't lost a leg… yet. Peg, meet Eskimo Jones, the flea in my mane.
ESKIMO: You mean your MORTAL ENEMY!
JEANNE: Yes, if by 'mortal' you mean 'having a lifespan of 60-90 days' or 'carrying the Lyme disease.'
KRYS: That's ticks, not fleas.
ESKIMO: Does this look like the right time for pedantry!
KRYS: It's always the right time for pedantry.
JEANNE: Come, Peg, before we inadvertently cronch these insects.
Peg flashes Lance the "call me" sign.
ESKIMO: Rrgh! She makes me so mad!
LANCE: I'm sorry.