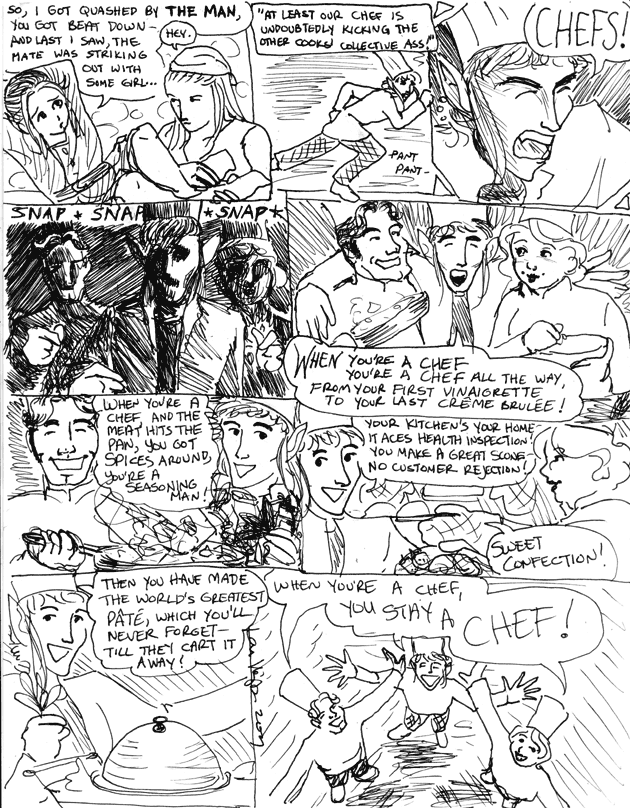 If you don't understand what's going on here, it's because I have written a comic which requires not only a passing familiarity of the plot of West Side Story/Romeo and Juliet but an intimate knowledge of the lyrics of the Jet Song. If you do know said lyrics and aren't marvelling at the clever perfection of the first line ("When you're…brulée"), what's wrong with you? (This is not self-adulation; I am pretty sure that line was written by Paul.)
The first two verses of the Chef Song are exactly as-was from the sketchbook comic of approx. 9th grade era. I added the next two ("Your kitchen… away") for the webcomic, mainly to pad it out to a page, but also because I couldn't resist the potential in the "cart you away" line.
This is my favorite title ever.
ESKIMO: So I got quashed by THE MAN, you got beat down–
KRYS: Hey.
ESKIMO: And last I saw, the mate was striking out with some girl. (voice-over, over Chefelf running) At least our chef is undoubtedly kicking the other cooks' collective ass.
CHEFELF (panting): CHEFS!
Two other chefs emerge from the darkness; all three snap their fingers.
CHEFS (singing): When you're a chef you're a chef all the way,
From your first vinaigrette, to your last creme brulee!
When you're a chef you and the meat hits the pan,
You got spices around, you're a seasoning man!
Your kitchen's your home — it aces health inspection!
You make a great scone — no customer rejection! Sweet confection!
Then you have made the world's greatest pate,
Which you'll never forget till they cart it away!
When you're a chef, you stay a CHEF!