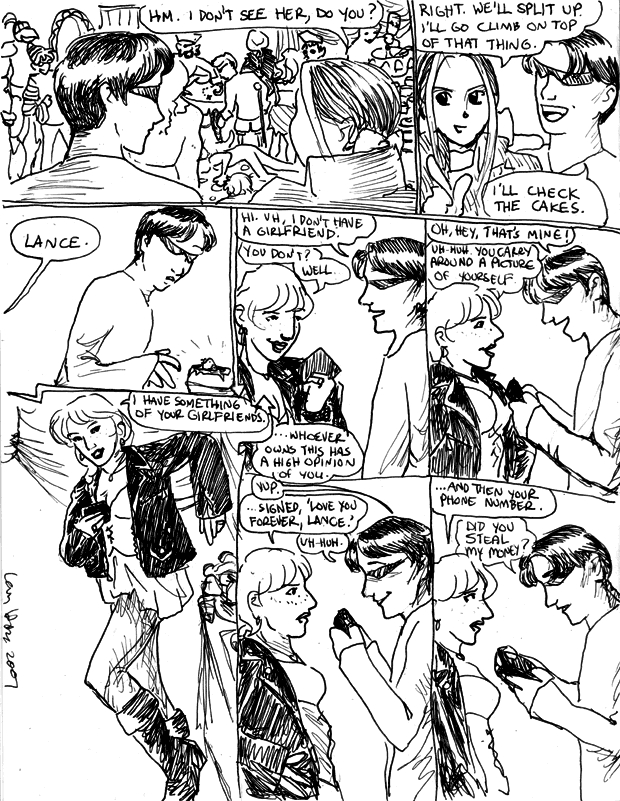 I suspect Eskimo and Lance's ideas of how to find Jeanne are both self-serving.
Panel 3 would make an excellent illustration for a Knave of Hearts coloring book.
Sorry about the hard-to-follow panel order. I couldn't figure out how to squeeze in a long, loving, sexy-figure shot of Peggy.
Lance's photo-carrying (including the signature and phone number) is one of the attributes of him that comes from my own life. I told you I had a high opinion of myself.
Eskimo and Lance look out over the crowd of pirates in the officer's room.
ESKIMO: Hm. I don't see her, do you? Right, we'll split up. I'll go climb on top of that thing.
LANCE: I'll check the cakes.
Lance stops bent over a tart.
VOICE: Lance.
We see Peggy, the crew member from Jeanne's ship. She's wearing an oversized leather jacket and holding up a wallet.
PEGGY: I have something of your girlfriend's.
LANCE: Hi. Uh, I don't have a girlfriend.
PEGGY: You don't? Well. Whoever owns this has a high opinion of you.
LANCE: Oh, hey, that's mine!
PEGGY: Uh-huh. You carry around a picture of yourself.
LANCE (looking blushfully at the photo): Yup.
PEGGY: …signed, 'Love you forever, Lance.'
LANCE: Uh-huh.
PEGGY: …and then your phone number.
LANCE (looking in the wallet): Did you steal my money?