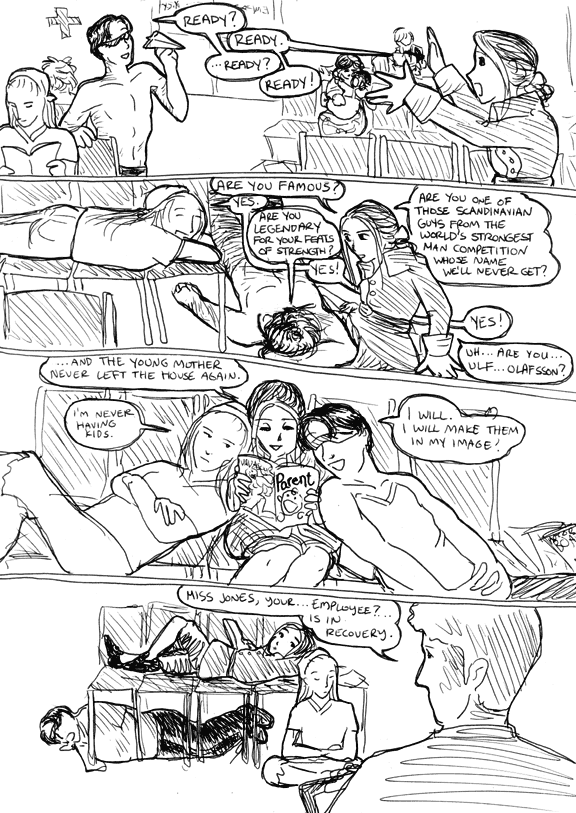 In the hospital waiting room, Lance holds a paper airplane, and Eskimo stands a ways off with her arms outstretched, ready to catch it. Krys reads a magazine.
LANCE: Ready?
ESKIMO: Ready.
LANCE: …Ready?
ESKIMO: Ready!
Next, Lance lies on the floor, Eskimo sits next to him, and Krys stretches across a row of chairs.
ESKIMO: Are you famous?
KRYS: Yes.
LANCE: Are you legendary for your feats of strength?
KRYS: Yes!
ESKIMO: Are you one of those Scandinavian guys from the World's Strongest Man competition whose name we'll never get?
KRYS: Yes!
ESKIMO: Uh… are you… Ulf… Olafsson?
Next, Eskimo reads aloud from "Parent" magazine, while Krys and Lance each rest on a shoulder.
ESKIMO: …And the young mother never left the house again.
KRYS: I'm never having kids.
LANCE: I will. I will make them in my image!
Finally, we see Eskimo lying on the row of chairs reading, Krys sitting cross-legged in front possibly meditating or dozing, and Lance asleep and drooling beneath.
NURSE: Miss Jones, your… employee?… is in recovery.