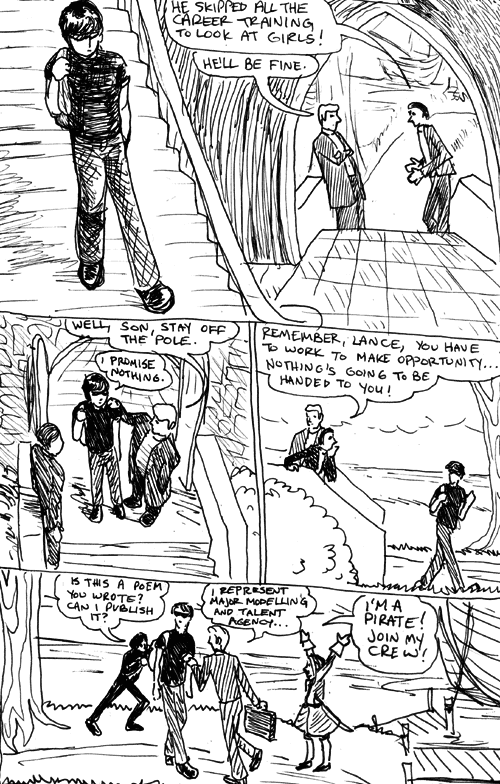 Oh, great, Lance is a poet. I hope he doesn't go all Shawn Hunter on us.
Title is because one of the tracks on my second-favorite Candide album is named "Candide Begins His Travels." (Yes, I have a number of Candide albums, and they are ranked.)
This is the comic about which my dad asked me if I saw my life as being like Lance Redcloud's. I wish!
The Script
As Lance descends the stairs with his little backpack, the two teachers argue on the stoop.
WENDELL: He skipped all the career training to look at girls!
DR STRAGELY: He'll be fine.
Lance meets the teachers outside the door.
DR STRAGELY: Well, son, stay off the pole.
LANCE: I promise nothing.
WENDELL (calling after Lance as he walks away): Remember, Lance, you have to work to make opportunity… nothing's going to be handed to you!
A few steps away, Lance is surrounded:
BEATNIK (picking his backpack pocket): Is this a poem you wrote? Can I publish it?
SUIT (handing him a card): I represent a major modelling and talent agency…
MANIC TEENAGED PIRATE CAPTAIN (ESKIMO JONES): I'm a pirate! Join my crew!