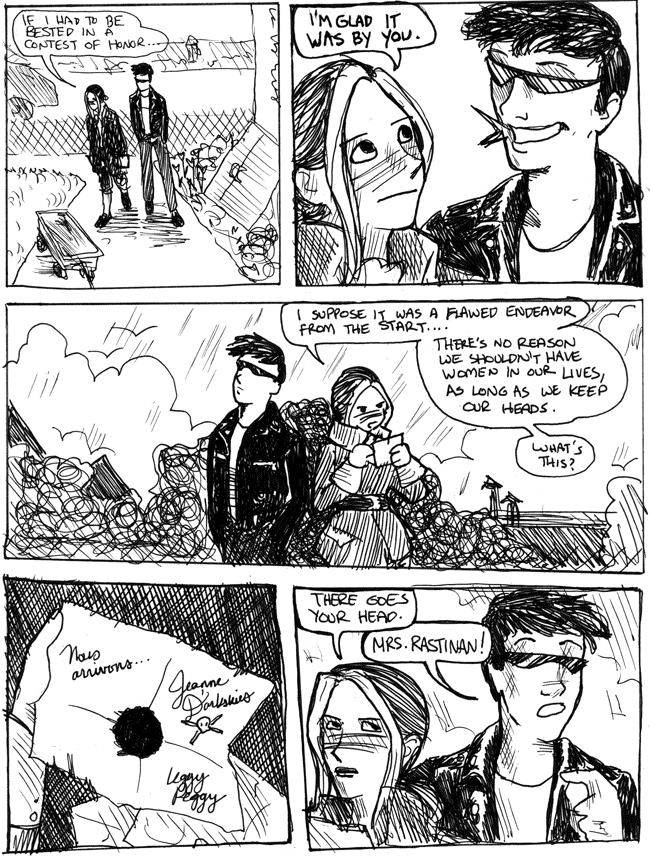 Thus endeth "Lance and Eskimo Are No Longer Interested In Women" (finally!) Because it's important to end on a comic that doesn't make sense unless you've read the entire run of the series… today.
You would think given my track record with updates to this storyline, I would be taking a break now, but instead I've begun work on the next storyline. Here at L&E Enterprises, we live in hope.
ESKIMO: If I'm going to be beaten in a contest of honor… I'm glad it was by you.
LANCE: Hey.
ESKIMO: I suppose it was a flawed endeavor from the start. There's no reason we shouldn't have women in our lives, as long as we keep our heads. What's this?
Amongst the mail is a Black Spot surrounded by the message: "Nous arrivons. Jeanne Darkskies + Leggy Peggy."
ESKIMO: So much for your head.
LANCE: Mrs. Rastinan!