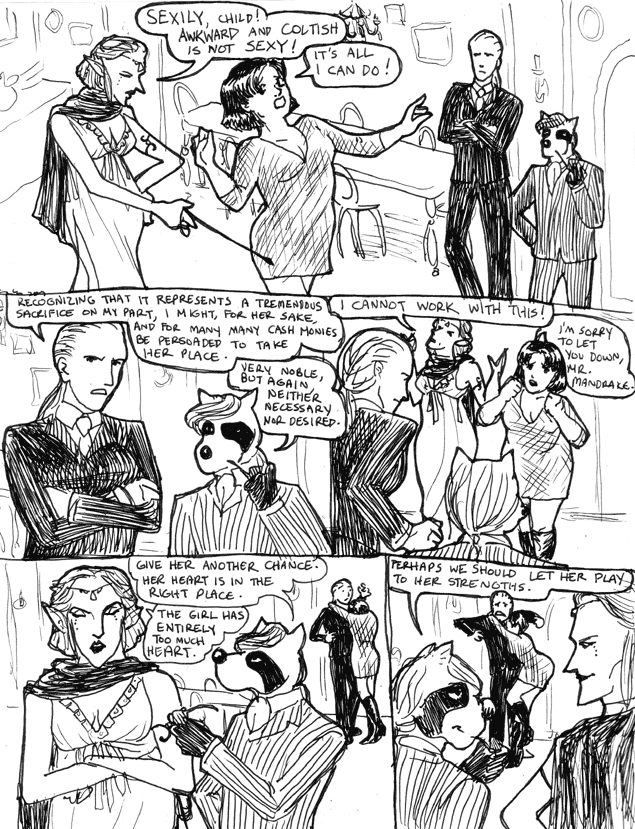 Drew this during War & Peace. It actually makes me kind of uncomfortable (particularly the elven Mata Hari and her riding crop), but then, so does Natasha Rostova's love life.

SEDUCTION INSTRUCTOR: Sexily, child! Awkward and coltish is not sexy!
PHIL: It's all I can do!
KRYS: Recognizing that it represents a tremendous sacrifice on my part, I might, for her sake, and for many many cash monies, be persuaded take her place.
MANDRAKE: Very noble, but again, neither necessary nor desired.
SEDUCTION INSTRUCTOR: I cannot work with this.
PHIL: I'm sorry to let you down, Mr. Mandrake.
MANDRAKE: Give her another chance. Her heart is in the right place.
SEDUCTION INSTRUCTOR: The girl has entirely too much heart.
MANDRAKE: Perhaps we should let her play to her strengths.