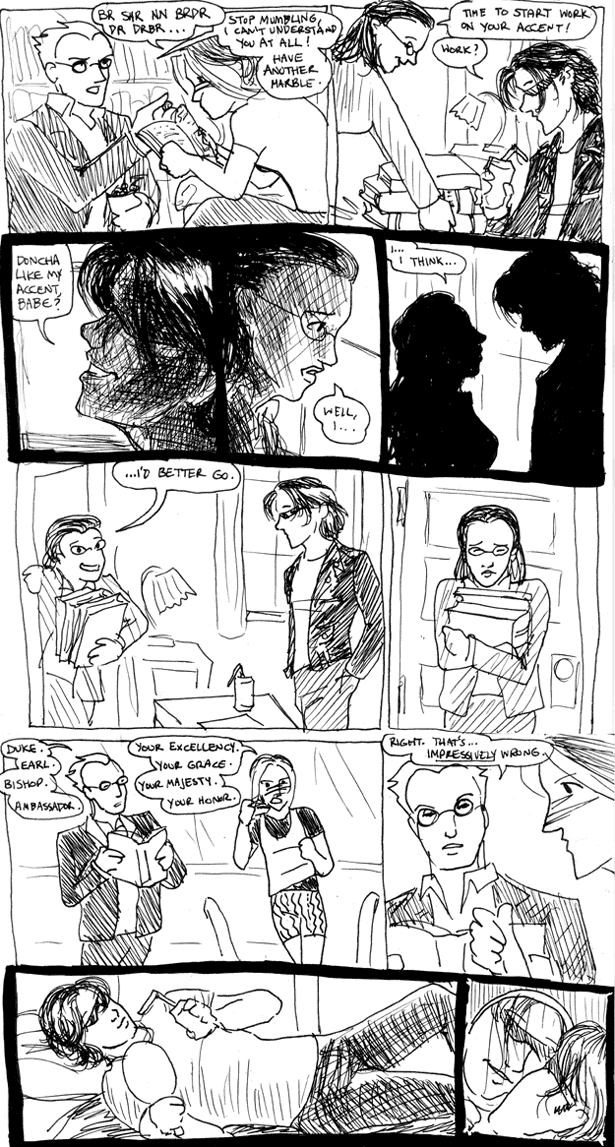 Eskimo doesn't mind training; she believes she should know the correct way to address people of various ranks. And those marbles are delicious.
If you're curious about the raw material from which I'm drawing these comics, I've put up this selection of scans from the original sketchbook version of Port Side Story. (I'll show you the scans from what was then called "Lance and Eskimalion" once this storyline is complete in its modern form; I don't want to spoil you!)
ESKIMO (reading out loud with mouth full): Br shr nn brdr br drbr…
HIGGINS: Stop mumbling, I can't understand you at all! Have another marble.
In another room:
PICKERING (dropping some large books on the table): Time to start work on your accent!
LANCE: Work? Doncha like my accent, babe?
PICKERING: Well, I… (blushes) I think… (runs for door) …I'd better go.
In the gym:
HIGGINS: Duke. Earl. Bishop. Ambassador.
ESKIMO: Your excellency. Your grace. Your majesty. Your honor.
HIGGINS: Right. That's… <i>impressively</i> wrong.
In a bedroom, Lance gazes lovingly at himself in the mirror.