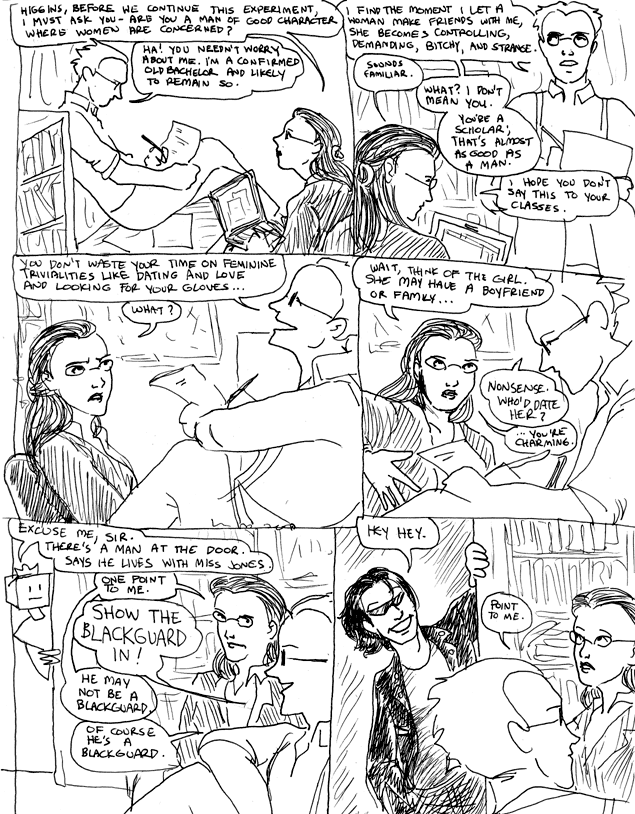 If there is a comic strip that features more dialogue cribbed directly from G. B. Shaw, I'd like to see it.
PICKERING: Higgins, before we continue this experiment, I must ask you. Are you a man of good character where women are concerned?
HIGGINS: Ha! You needn't worry about me. I'm a confirmed old bachelor and likely to remain so. I find the moment I let a woman make friends with me, she becomes controlling, demanding, bitchy and strange.
PICKERING: Sounds familiar.
HIGGINS: I don't mean you. You're different. You're a scholar; that's almost as good as a man.
PICKERING: I hope you don't say this to your classes.
HIGGINS: You don't waste your time on feminine trivialities like dating and love and looking for your gloves…
PICKERING: What? Wait, think of the girl. She may have a boyfriend or family…
HIGGINS: Nonsense. Who'd date her?
PICKERING: You're charming.
MRS PARSE: Excuse me, sir, there's a man at the door. Says he lives with Miss Jones.
PICKERING: One point to me.
HIGGINS: Show the blackguard in!
PICKERING: He may not be a blackguard.
HIGGINS: Of course he's a blackguard.
Lance enters.
LANCE: Hey hey!
HIGGINS: Point to me.