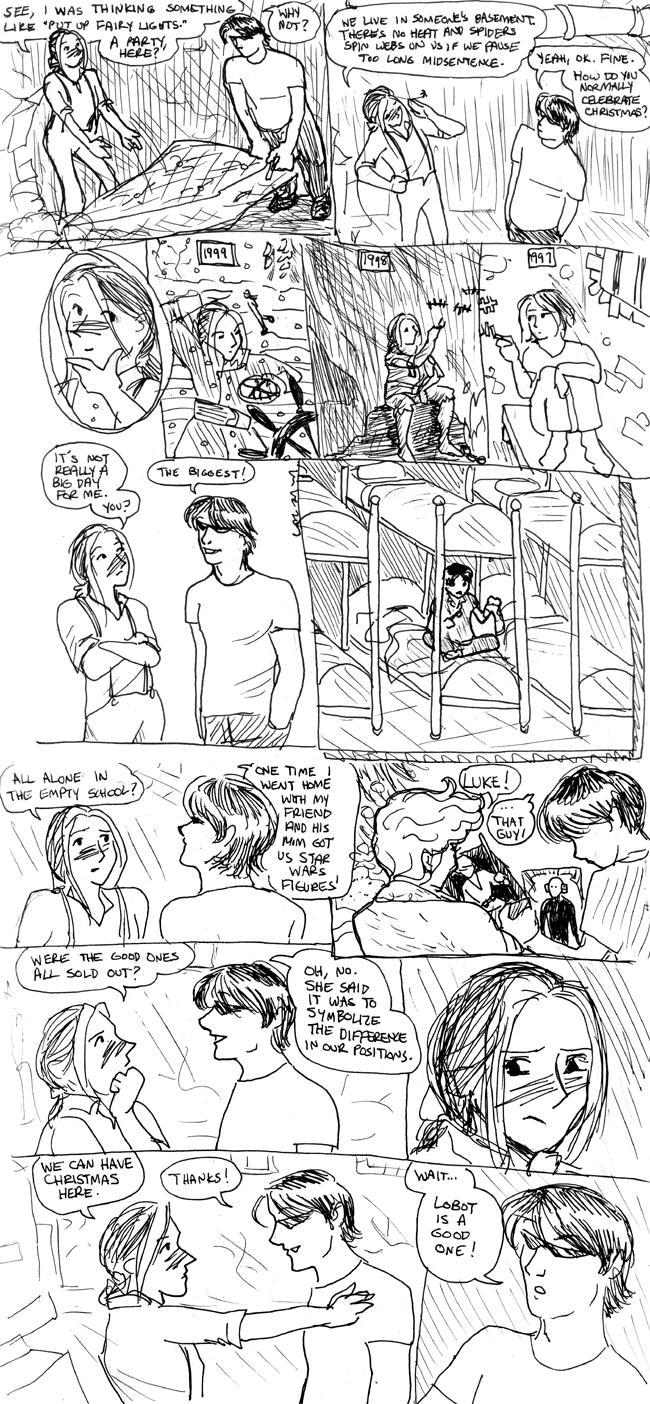 And we open the holiday special with some unnecessary flashbacks.
Eskimo's: Remember how it's the year 2000? Yeah, I didn't either. I bet there's some anachronism in previous comics. I did give Phil a big CRT monitor, though. Hey, when was Eskimo in gaol?
Lance's: I was going to have his stocking contain a tract reading "BONECASTING: The Demon Art of Satan," but that's harder to show in tiny tiny.
ESKIMO: See, I was thinking something like "put up fairy lights." A party, here?
LANCE: Why not?
ESKIMO: We live in someone's basement. There's no heat and spiders spin webs on us if we pause too long midsentence.
LANCE: Yeah, okay. Fine. How do you usually celebrate Christmas?
Flashback to 1999: Eskimo stands at the wheel of the ship in the snow, consulting an astrolabe. In the background, Krys skates on the hardened lake.
Flashback to 1998: Eskimo sits in a cave in rags, marking off days on the stone wall.
Flashback to 1997: Eskimo sits in prison, marking off days on the stone wall.
ESKIMO: it's not really a big day for me. You?
LANCE: The biggest!
Flashback: Young Lance sits alone in an empty room full of empty bunk beds, holding a new toothbrush and an empty Christmas stocking.
ESKIMO: All alone in the empty school?
LANCE: One time I went home with my friend and his mom got us Star Wars figures!
Flashback: Lance's friend open a box containing a Luke figure and exclaims "Luke!" Lance opens a box containing a figure of that guy with the robotic head who is Lando's assistant in Cloud City and exclaims "…that guy!"
ESKIMO: Were the good ones all sold out?
LANCE: Oh, no. She said it was to symbolize the difference in our positions.
Eskimo looks pitying.
ESKIMO: We can have Christmas here.
LANCE: Thanks!
After a beat
LANCE: Wait… Lobot is a good one!