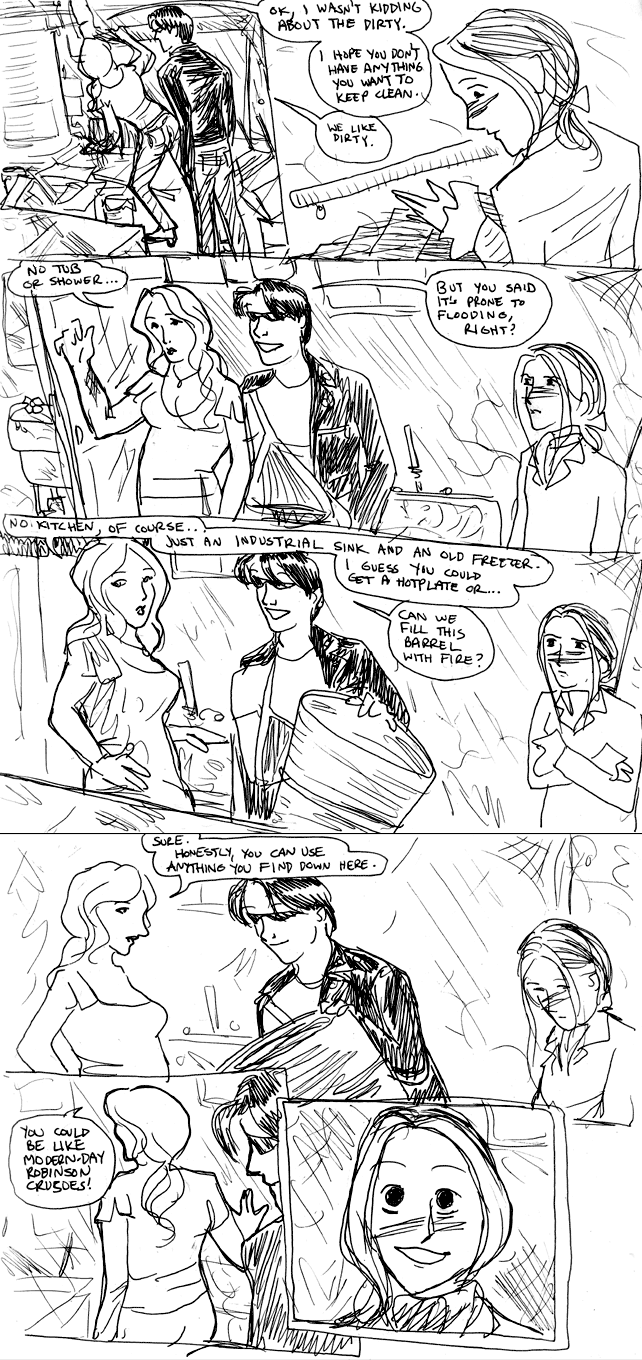 A complete character arc in one strip! Like all pirate captains, Eskimo has to juggle the competing demands of refined gentlemanliness and rough-n-tumble survivalism.
Meanwhile, Lance has his own character milestone, as he semi-intentionally makes a sexual innuendo. Actually he kind of only realized it was a sexual innuendo once he'd already said it (it started off as general buttering-up), but luckily he had said in a low, sexy growl (as he says about 50% of his speech anyway) so he had no regrets. Though if he'd had time to think about it he might have said "I like it dirty." But hindsight is 20/20.

JERIA: OK, I wasn't kidding about the dirty. I hope you don't have anything you want to keep clean.
LANCE: We like dirty.
Eskimo looks regretfully at her lace cuffs.
JERIA: No tub or shower…
LANCE: But you said it's prone to flooding, right?
Eskimo frowns.
JERIA: No kitchen, of course. Just an industrial sink and an old freezer. I guess you could get a hotplate, or…
LANCE: Can we fill this barrel with fire?
Eskimo folds her arms.
JERIA: Sure. Honestly, you can use anything you find down here. You could be like modern-day Robinson Crusoes!
Eskimo looks thrilled.