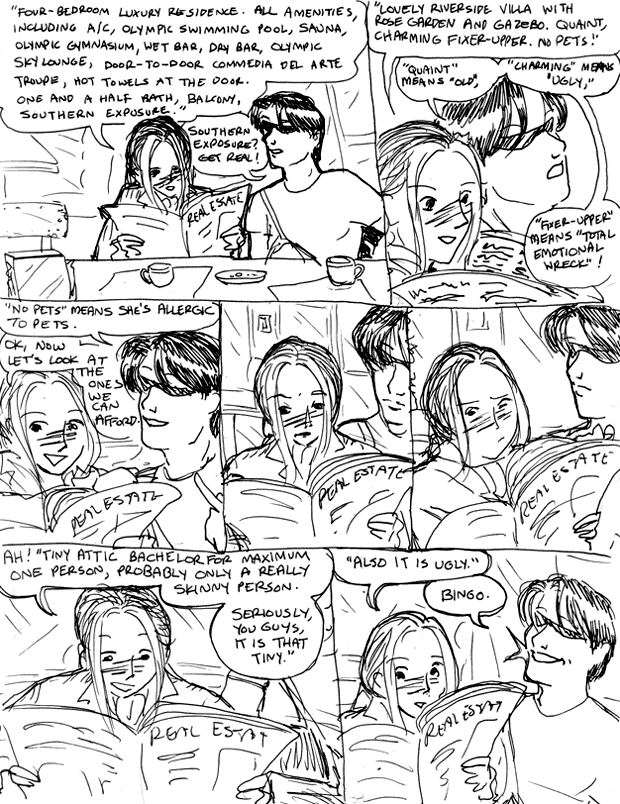 Today's installment finds our intrepid heroes in a diner, in case that wasn't clear from the extremely sketchy background. I guess they figured they could afford to split a donut.
Everything Lance needs to know about classified ads he learned in the personals section, apparently. If "quaint" means "ugly," what does "ugly" mean?
Do people say "bachelor" to mean "studio" in the U.S., or is that a Canadianism?

ESKIMO (reading out of a newspaper ad): "Four bedroom luxury residence. All amenities, including A/C, Olympic swimming pool, sauna, Olympic gymnasium, wet bar, dry bar, Olympic sky lounge, door-to-door Commedia del Arte troupe, hot towels at the door. One an a half bath, balcony, southern exposure."
LANCE: Southern exposure? Get real!
ESKIMO: "Lovely riverside villa with rose garden and gazebo. Quaint, charming fixer-upper. No pets."
LANCE: "Quaint" means "old," "charming" means "ugly," "fixer-upper" means "total emotional wreck!" "No pets" means she's allergic to pets.
ESKIMO: OK, now let's look at the ones we can afford.
She turns a page. She turns several more pages.
ESKIMO: Ah! "Tiny attic bachelor for maximum one person, probably only a really skinny person. Seriously, you guys, it is that tiny. Also it is ugly."
LANCE: Bingo.