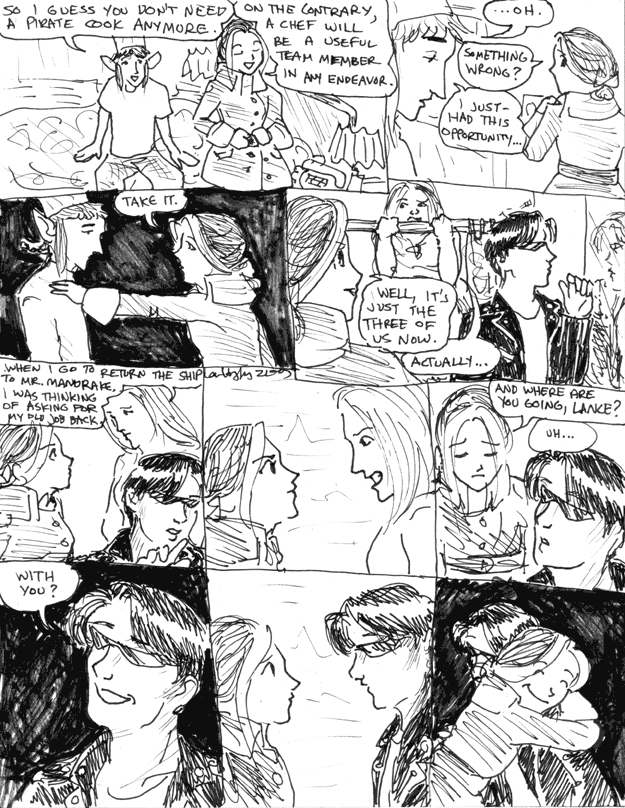 Stupid running out of ink Sharpie.
Krys should really not do her chin-ups on the shower bar. It won't end well.
Eskimo, Lance, Chefelf, and Krys hang out in the hotel room.
CHEFELF: So I guess you don't need a pirate cook anymore.
ESKIMO: On the contrary, a chef will be a useful team member in any endeavor.
CHEFELF: …Oh.
ESKIMO: Something wrong?
CHEFELF: I just–had this opportunity…
ESKIMO (putting a hand on his shoulder): Take it.
Eskimo turns to Krys and Lance.
ESKIMO: Well, it's just the three of us now.
KRYS: Actually… When I go to return the ship to Mr. Mandrake, I was thinking of asking for my old job back.
Eskimo looks angrily at Krys, who smiles sheepishly. She turns to Lance, sighing.
ESKIMO: And where are you going, Lance?
LANCE: Uh… with you?
There is a pause, then Eskimo hugs Lance, beaming.