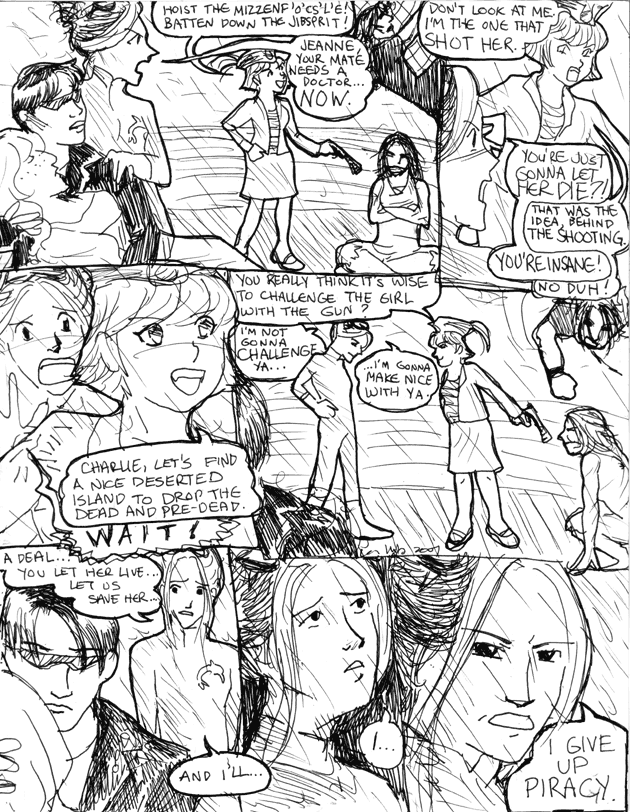 omg Eskimo is so badass. I want to be her when I grow up.
Somehow between strips Krys has been gagged with her own bandanna.
JEANNE (to Charlie): Hoist the mizzenf'o'c'sl'e! Hoist the jibsprit!
ESKIMO: Jeanne, your mate needs a doctor…now.
JEANNE: Don't look at me. I'm the one who shot her.
ESKIMO: You're just gonna let her die?!
JEANNE: That was the idea behind the shooting.
ESKIMO: You're insane!
JEANNE: No duh! Charlie, let's find a nice deserted island to drop the dead and pre-dead.
ESKIMO: Wait!
JEANNE: You really think it's wise to challenge the girl with the gun?
ESKIMO: I'm not gonna challenge ya… I'm gonna make nice with ya. A deal… you let her live… let us save her… and I'll… I…
[Rain falls harder. Obviously this is hard for Eskimo. Her face takes on a look of grim resolve.]
ESKIMO: I give up piracy.