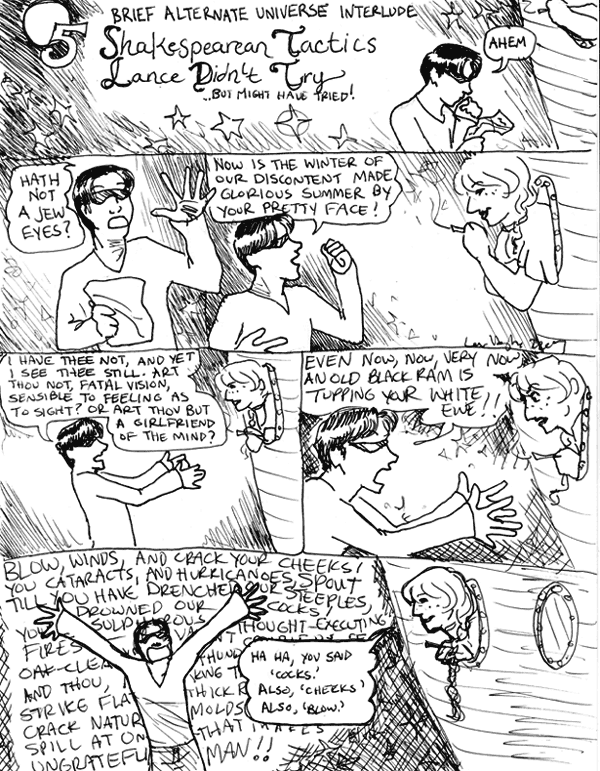 I like how this is alternate universe interlude #1. I was so ambitious. Sixty-ish strips later and I still have not done a #2. (Although I have done some weird strips in the actual chronology.)
I won't explain this one too much since I think overexplanation ruins jokes, but my reasoning on panel #5, FYI, is that that first scene in Othello is the only other balcony scene I know of in Shakespeare.
There are at least two reasons why it was probably a good call for Lance not to go with #2.
In the alternate universe where Lance went with act III of Lear, Peggy somehow has the sense of humor of a twelve-year-old boy. You crunch a butterfly in the Cretaceous, you know?
Brief Alternate Universe Interlude: Shakepearean Tactics Lance Didn't Try… But Might Have Tried!
LANCE: Ahem.
Hath not a Jew eyes?
Now is the winter of our discontent made glorious summer by your pretty face!
I have thee not, and yet I see thee still. Art thou not, fatal vision, sensible to feeling as to sight? Or art thou but a girlfriend of the mind?
Even now, very now, an old black ram is tupping your white ewe!
BLOW WINDS, AND CRACK YOUR CHEEKS! YOU CATARACTS, AND HURRICANOES, SPOUT TILL YOU HAVE DRENCHED OUR STEEPLES, DROWNED OUR COCKS, YOU SULPHUROUS THOUGHT-EXECUTING FIRES… (etc etc)
PEGGY: Ha ha. You said 'cocks.' Also 'cheeks.' Also 'blow.'