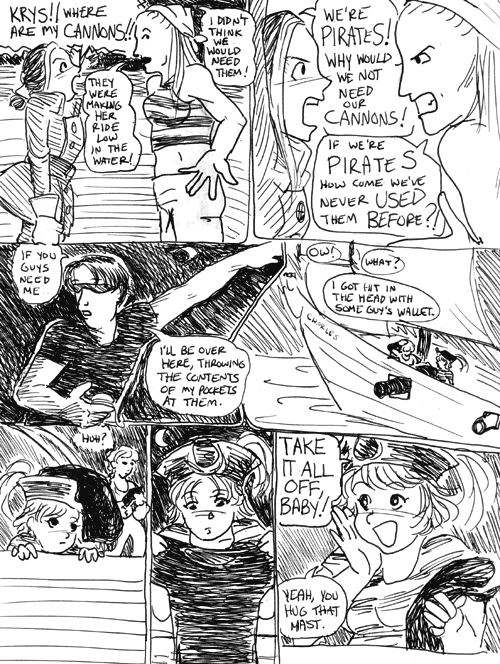 Not really sure what I was going for with the ostensible punchline here–possibly a return to the pole-dancing idea introduced in <a href="http://www.lanceandeskimo.com/lance/2007/04/10/lance-begins-his-travels/">#3 Lance Begins His Travels</a>?
It's unclear who's saying "Huh?"–Captain Jeanne as she gets hit with Lance's T-shirt, or her mate Peggy as she looks in Lance's wallet. (This will be important later! Yay, continuity.)
The Script
ESKIMO: Krys!! Where are my cannons!
KRYS: They were making her ride low in the water! I didn't think we would need them!
ESKIMO: We're pirates! Why would we not need our cannons!
KRYS: If we're pirates how come we've never used them before?!
LANCE: If you guys need me, I'll be over here, throwing the contents of my pockets at them.
(On the other ship)
SOMEONE: Ow!
SOMEONE ELSE: What?
SOMEONE: I got hit in the head with some guy's wallet.
(A T-shirt lands on the rival cute pirate's hat. She examines it.)
RIVAL CUTE (shouting): Take it all off, baby! Yeah, you hug that mast.