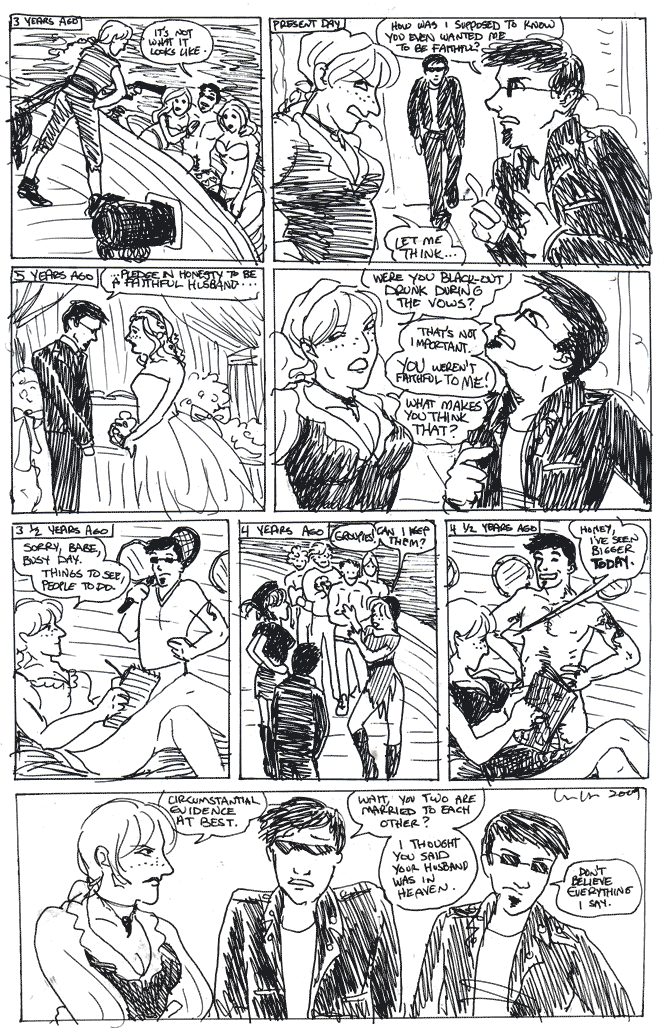 I almost did this comic without the "x years ago" boxes. Then I decided to give you a break (1). Speaking of years, happy new one!
(3 years ago: Rook clings to two women in a rowboat while Peg stands with pistol extended)
ROOK: It's not what it looks like.
(present day)
ROOK: How was I supposed to know you even wanted me to be faithful?
PEG: Let me think…
(5 years ago: Rook and Peg stand in wedding clothes)
ROOK: …pledge in honesty to be a faithful husband…
(present day)
PEG: Were you black-out drunk during the vows?
ROOK: That's not important. You weren't faithful to me!
PEG: What makes you think that?
(3 1/2 years ago: Cabin. Rook stands in a tennis outfit.)
PEG: Sorry, babe, busy day. Things to see, people to do.
(4 years ago: Deck. Rook and Jeanne look skeptical as Peg gestures at a bunch of young men with flowers and valentines)
PEG: Groupies! Can I keep them?
(4 1/2 years ago: Cabin. Peg leaves through a magazine as Rook stands undressed before her.)
PEG: Honey, I've seen bigger today.
(present day)
PEG: Circumstantial evidence at best.
LANCE: You guys are married? I thought you said your husband was in Heaven.
ROOK: Don't believe everything I say.