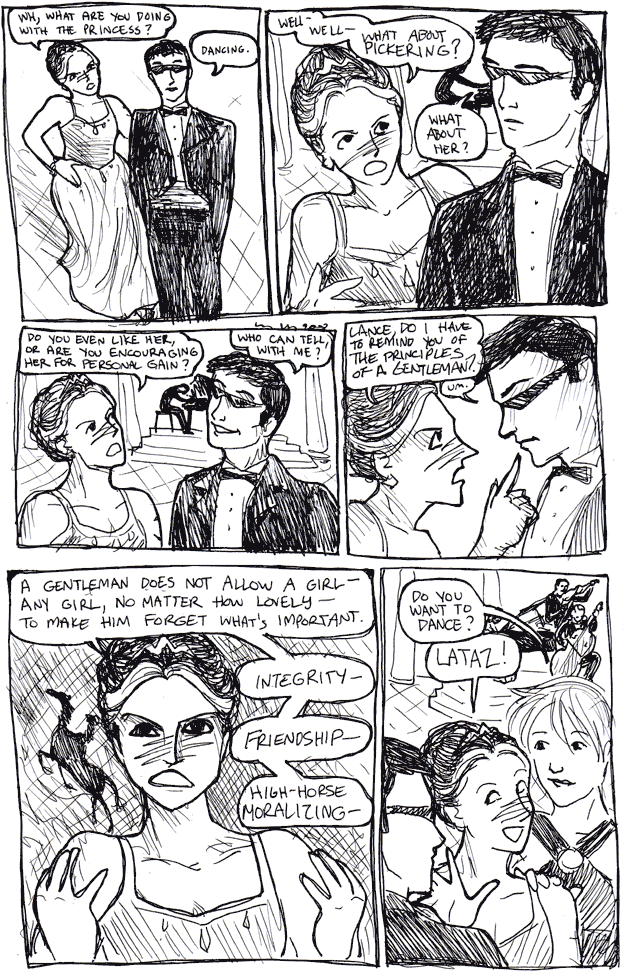 This is about as pissed off as we've ever seen Lance. (See the slight tightening of the brows? No? Get a microscope, maybe?) From his point of view, he did right by Pickering and Eskimo and everybody; he didn't try to charm Lissa. Of course, Eskimo has no way of knowing that. Lance's tragedy is that although he wants Eskimo to believe him a good guy, he can't resist, when asked point-blank if he's being a bastard, saying yes.
ESKIMO: Wh, what are you doing with the princess?
LANCE: Dancing.
ESKIMO: Well– well–what about Pickering?
LANCE: What about her?
ESKIMO: Do you even like her, or are encouraging her for personal gain?
LANCE: Who can tell, with me?
ESKIMO: Lance, do I need to remind you of the principles of a gentleman?
LANCE: Um.
ESKIMO: A gentleman does not allow a girl–any girl, no matter how lovely–to make him forget what's important: integrity, friendship, high-horse moralizing–
LISSA: Do you want to dance?
ESKIMO: Lataz!