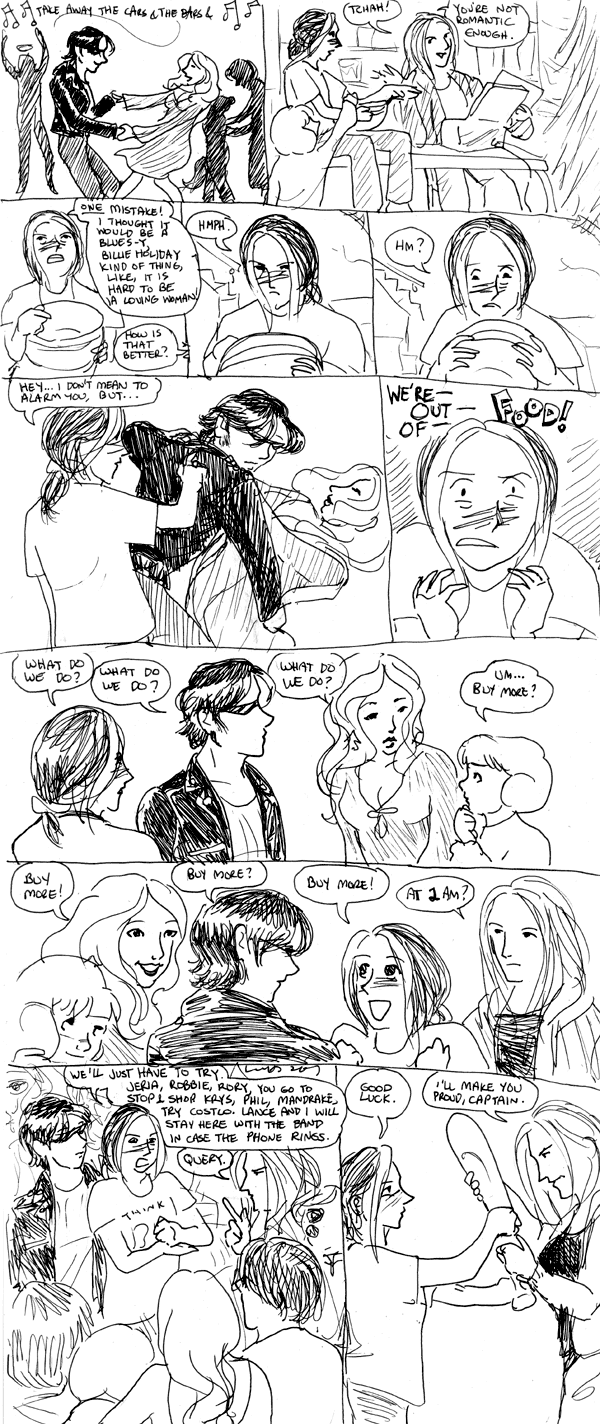 Two things I love are Lance's current hairstyle (when I draw it right) and Krys (always). She was going to criticize, but… bat!
Also she is kind of one to talk about chick music selections. She apparently chose "Jeremiah Was A Bullfrog." (Which I guess is fine. What could be more dreamy than a straight-shootin' son-of-a-gun?)
Lance dances with Jeria, while in the background Mandrake dances with Phil and James Gurley grooves alone.
RECORD: Take away the cars & the bars…
Sitting on the food table with a bowl of snacks, Eskimo reaches for a record, but Krys slaps her hand away.
KRYS: Tchah! You're not romantic enough.
ESKIMO: One mistake! I thought it would be a blues-y, Billie Holiday kind of thing, like, it is hard to be a loving woman.
KRYS: How is that better?
ESKIMO: Hmph. (she reaches for snacks) Hm?
Eskimo approaches Lance, who is dipping Jeria, and taps his shoulder.
ESKIMO: I don't mean to alarm you, but… WE'RE– OUT– OF– FOOD! (asking Lance) What do we do?
LANCE (asking Jeria): What do we do?
JERIA (asking Robbie): What do we do?
ROBBIE: Um… Buy more?
JERIA: Buy more!
LANCE: Buy more?
ESKIMO: Buy more!
KRYS: At 2 A.M.?
ESKIMO (decisively): We'll just have to try. Jeria, Robbie, Rory, you go to Stop & Shop. Krys, Phil, Mandrake, try Costco. Lance and I will stay here with the band in case the phone rings.
KRYS: Query.
ESKIMO (handing her a baseball bat): Good luck.
KRYS: I'll make you proud, Captain.