Wednesday, May 14th, 2003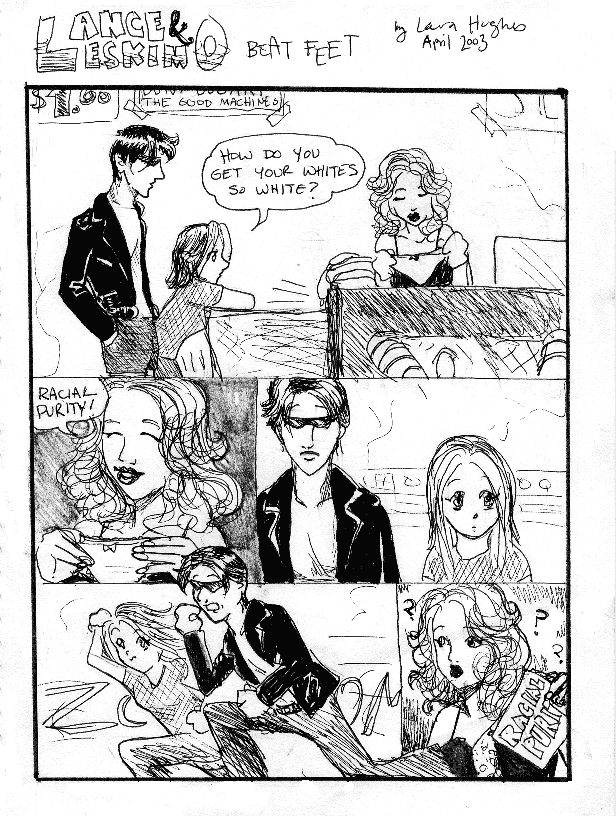 Reading an old sketchbook-comic which contained a not-very-funny takeoff on a detergent commercial that was running at the time was the springboard for this strip. I knew I wanted to set a strip in a laundromat (because I'm all about wackiness in mundanity), and the race joke allowed me to introduce (and then never use again, thankfully) the old character of Frieda, a fairly racist character in every sense of the word: a German, ubermensch-minded evil nurse. She had been a recurring character in some of the earliest sketchbook comics (back when I was cowriting them with Alison, who was more interested in danger than I was) who was at once in love with and repulsed by Lance.
She subsequently took on a life of her own as the subject of a series of about 50 colored-pencil drawings I drew between the ages of 13 and 15 (1998-2001), in which I placed her in different settings (various professions, fairy tales, etc.) I then put them up covering a whole wall in my room. It was a little creepy but at least it shifted the focus from the questionable elements of her character (giving her a fluctuating identity and so forth) and, more importantly, got her out of the comic.
UNTIL NOW.
Or rather, then.
THE END.
?
(more…)