Paul (Redcloud Brother)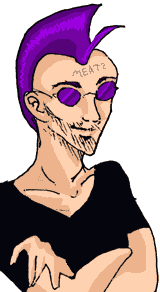 Many of you have asked, "Paul, how do you get through your grueling four-hour-a-day work schedule and still find time to write one article a week?" Obviously, he can't do both, AND take 45-minute showers, AND set up the timer to tape Hawaii 5-0 every day. No man could. So how is this thing done? The answer is simple: time travel. To do his actual work, Paul enlists the aid of Future Paul, who is a grizzled, one-armed veteran of the Great Cyborg War. He is glad to do Present Paul's work for him in exchange for a few decaliters of gasoline (which, respectively, are the unit of volume and the currency of the future) so he can buy a bottle or two of Mad Dog 2525.
Incidentally, Future Paul also takes Present Paul's showers for him, and Past Paul watches the tapes of Hawaii 5-0, which explains Present Paul's smelliness and tendency to book people.
Besides writing articles for LnE, Paul also does site design, Flash, and programming for the site. He also spends hours in conference calls with CEOs of big companies, trying to negotiate big LnE advertising deals in exchange for the return, unharmed, of the CEOs' son. There is a warrant out for his arrest.
You can email Paul at paul@lanceandeskimo.com or, for some reason, latex@lanceandeskimo.com.



All of Paul's Articles
16-11-02 The Erotic Adventures of Scrooge McDuck: A disappointingly vanilla tale of triumph over adversity.
08-27-02 The Ten Dollar Haircut: Either an exercise in horror from one of the genre's modern masters, or Paul complaining about stuff.
08-20-02 The Erotic Adventures of Scrooge McDuck: A disappointingly vanilla tale of triumph over adversity.
07-30-02 Things Paul Ate as a Kid: It's all food, no bugs and stuff.
07-02-02 The Patricia Richardson Ate My Balls Webring: In our continuing effort to break all the rules on our played out list, we've got some topical, topical ball-eating humor for you to enjoy. Try to visit every member of the webring!
06-11-02 An Irish Tale: (Flash 6, 240k) What do you get when you cross a family of Irish immigrants with an object of ultimate evil? Dare we say fun-larity?
05-21-02 George Lucas's Neck Size is Inversely Proportional to the Quality of his Movies: A photo essay.
05-14-02 What's Your Temperament? Personality Test/Medical Diagnostic Tool: This is the actual test administered by Galen right before he gave people mercury to eat.
05-07-02 Comprehension Test of Something Some Crazies Gave Me on the Street: Time travel! The destruction of Jupiter! Those disturbing cervical rings that are popping up everywhere! It's all explained in this reading comprehension passage!
04-30-02 Fresh New World: How big a poundcake would be needed to cure all the world's ills?
04-23-02 How Long Would it Take to Kill Bill Gates with an Axe?: Finally, proof that Bill Gates is the baddest mofo ever!
04-16-02 15 Reasons why Chocolate is Better than Sex: Do your part! Repeatedly forward this article to all your friends!
04-09-02 The 2001 Beer Commercial Report: Including an insight into the creation of Spuds the dog.
04-02-02 Bilbo the Talking Gondar: (Flash, 170k) A disastrous foray into the world of children's television.
03-26-02 My Fool is a Crock: A story about the world's worst jester.
03-20-02 The Star Wars Episode II Betting Book: Just like horse racing, but there's only one horse, and it still loses.
03-05-02 The F'ed Up Winners of the Caption the Senators Contest: Captions are revealed and prizes are doled out.
02-26-02 A New Contest!: What you lose in civil liberties you can make up for in prizes!
02-19-02 Bad Ads 2: Another look at the advertisements that keep America in a recession.
02-12-02 Mr. Bagel Have: A new comic series inspired by this one time I ate a bagel.
02-05-02 Paul is At Best Lukewarm About the USA PATRIOT Act: Non-US residents, feel free to stop reading this article now and return to the football hooliganism for which you are so rightly renowned.
01-29-02 Ringworld Remembered: Paul and Nate review classic sci-fi novel Ringworld.
01-22-02 Origins: A prequel of sorts.
01-15-02 A Question of Semantics: In a heart-warming piece, Paul discovers the joy of multiculturalism.
01-08-02 Banned from Broadband: In which the phrase "traffic jam on the information superhighway" is NOT used.
01-01-02 How to Be a Fancypants: A reference for the rest of us.
12-28-01 Planned Eat-Selescence: Paul criticizes Play-Doh for what he percieves as "a tendency to be too delicious."
12-18-01 A Charlie Brown Christmas DVD: (Flash, 900k) Of all the flash films we've ever made, this one is the charlie browniest.
12-11-01 The Azores Mystery: Find the foreshadowing and win a free T-shirt!
12-04-01 Paul's Dream: (Flash, 67k) Starring the Hardy Boys.
11-27-01 Sex Degrees of Separation: A little fun toy that will tell you how closely-related celebrities are, sex-wise.
11-20-01 The Living Soap: A bonus story, regrettably about soap.
11-20-01 An Exciting WWII Story: Some speculative fiction, not about soap.
11-14-01 A Tale of Virtue: An exciting oral history, including mining and war stories.
11-13-01 Captain Geocities: An all new comic with a brand new superhero/soulless corporate icon!
10-24-01 An Open Letter of Apology to Bruce Campbell: Mustering all the dignity and class we can, we apologize for some of our book-signing faux pas.
10-16-01 The Fun Book of Fabulous Fast Facts: I got your knowledge right here.
10-02-01 Elves vs. the Supernatural: If you like BUFFY THE VAMPIRE SLAYER...
09-25-01 Pokemon Poop: When cartoon cuties and capitalism collide, what ensues can only be called comedy!
09-11-01 Welcome to Linux: Paul grapples with an unfamiliar OS and ruminates on BogoMIPS.
09-04-01 L&E Job Applications: Publishing these must be a violation of some privacy law.
08-28-01 Caption the Senator Contest: It's funny because they can say funny things.
08-21-01 The Adventures of Rex Blunder, pt. 3: A crudely drawn comic about a dapper playboy.
08-14-01 American Beans: A quick visit to a website where you can learn -- and laugh! -- along with America's least favorite legume
08-07-01 The Creepy Cable Cartoon Guy: Don't try to seduce us with your alluring mascots, Cox Communications! We're on to your little games.
08-03-01 Elf vs. Beast (Again): Scary. Realistic.
07-31-01 BAD ADS 1: Hey, sometimes it's hard to keep up consistent quality over 30 whole seconds.
07-24-01 Stop the Denial of Service Attacks: A Plea for Sanity: In which we invoke the twin gods of LnE.com: Kurt Russell and God.
07-20-01 Elf vs. Beast: A bonus story, filled with despair. A tail of redemption and a lion.
07-20-01 Elf vs. Its Mom: Angst-ridden.
07-17-01 My Stupid Eye Adventure, Part 2: Paul goes back to the eye doctor, futher humiliates himself, and weeps openly.
07-10-01 Hawaii Five-Oh-Yeah!: The top 7 reasons why it's the best show ever.
07-06-01 Elf vs. Society: Angst-ridden.
06-26-01 The Adventures of Rex Blunder, pt. 2: A crudely drawn comic about a dapper playboy.
06-22-01 Elves vs. Nature: Grim. Tragic.
06-19-01 My Stupid Eye Adventure: Paul, still under the impression that he is a clever man, wonder why he screws up simple things like a trip to the eye doctor.
06-12-01 Latex Implement: A slick new business joins the LnE community.
06-05-01 Armageddon: More like GIRLmageddon!: A timely review of the 1998 extinction-level-event classic.
05-29-01 Domains for Sale: Like throwing good money after bad? Then why not invest some of these hot domain names?
05-22-01 Brothers Redcloud Cuteness Vote: Paul: Paul weighs in on the cuteness issue.
05-15-01 I Don't Like those Game Shows That Much: Paul takes a unique stand.
05-08-01 The Adventures of Rex Blunder, pt. 1: A crudely drawn comic about a dapper playboy.
05-01-01 LnE Special HealthWatchZone Special Report: Dandruff: Breaking medical news before it breaks us.
04-27-01 The Rubies of Omeron: High fantasy with lots of irritating color words.
04-24-01 The Carl Sagan Song : (Flash, 112k) Our latest animation is dedicated to the late, great Carl Sagan.
04-17-01 OTIS: An Eiffel Tower Expose: Paul uncovers the grim secrets locked in Eiffel Tower propaganda. WARNING: You can't unsee the contents of this article.
04-10-01 My Trip to France: Paul's dazzling tour of all the French landmarks he didn't see.
04-03-01 Paul vs. the Airlines: Paul flies the friendly skies and breaks them.
03-27-01 Guy in the Elevator: Paul makes the startling discovery that not all commercials make sense.
03-20-01 Paul Works: Maybe it's just all the toner I've ingested talking, but that looks like Paul in a dress shirt. Dazzling!
03-13-01 Other Conversation Hearts: The Post-Valentine Conversation Heartstravaganza continues with this look at rare conversation heart varieties.
03-09-01 Paul's Ignorant Octopus Spin Doctor: Our most ambitious, and, arguably, our most enigmatic film.
02-20-01 Paul's Virtual Bar: It's lame to spend all night on the internet, but it's cool to spend all night in a bar, right? Now at Paul's Virtual Bar you can do both!
02-14-01 The Worst Film Ever: Well, second worst. According to our bastards to the north.
01-18-01 Glen Yarbrough: (shrugs) Some folk guy.
01-04-01 The Binary L&E Promo: Get ready for some pulse-pounding technological fun, and poop.