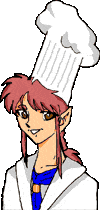 Name: Chefelf
Show: Lance & Eskimo
Ranking: 2
Occupation: My Boyfriend
Power Level: 8

Chefelf is my hero. Although he isn't as delicious as Vegeta he is still rather tasty. We fell in love recently but our feelings are strong and true. Hopefully he doesn't piss me off because I would really hate to have to kill him.